Houston Rockets centre Yao Ming underwent surgery Friday to repair a broken bone in his left foot.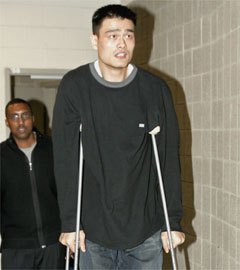 Houston Rockets centre Yao Ming leaves the locker room after his team's game against the Utah Jazz. Yao broke his left foot in the first quarter. [AP]
Yao Ming leaves on crutches after fracturing his left foot on Monday.
Yao suffered a fractured left foot in Monday's 85-83 loss to the Utah Jazz when he was fouled by Andrei Kirilenko, who stepped on his foot as he scored a first-quarter basket on a rebound.
Yao immediately reached down to examine the foot, but elected to take the free throw and complete the three-point play before departing for the locker-room.
"It was a fight for position," Yao said. "It happens on the court."
Rockets general manager Carroll Dawson said earlier this week that Yao could be sidelined four to six months, but expects him to be ready by next season.
The Rockets, already eliminated from playoff contention, have three games left in the regular season.
The injury could keep Yao from playing for China in the basketball world championship, slated to begin Aug. 19 in Japan.
Yao averaged 22.6 points, 10.3 rebounds, 1.6 blocked shots, 1.5 assists and 34.6 minutes in 56 starts this season, his fourth since being drafted first overall by the Rockets in 2002.
The four-time all-star was sidelined 21 games earlier in the season because of a toe injury and one other with a sore calf.
Houston is already missing leading scorer Tracy McGrady, sidelined since early March because of back problems.