Chad Campbell, who opened with a 71, surged into a tie with Vijay Singh on day two of the Masters on Friday with three straight birdies beginning at No. 12, pushing the Texan's score to 6 under. But Singh, who won the 2000 Masters and was among the last golfers to tee off, kept a share of the lead with a birdie on his first hole.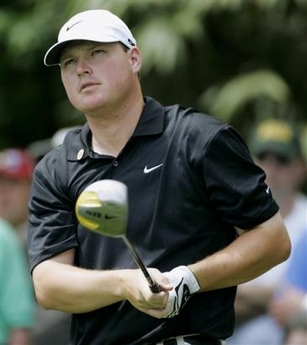 Chad Campbell tees off on the 14th hole during second round play of the Masters golf tournament at the Augusta National Golf Club in Augusta, Ga., Friday, April 7, 2006. [AP]
Singh, Phil Mickelson and Tiger Woods are trying to position themselves for a memorable weekend. Mickelson, the 2004 Masters winner, shot 35 on the front side and was 3 under as he headed toward Amen Corner on Friday.
Woods had a late tee time, setting up all sorts of intriguing possibilities. The second round is usually when the four-time champion makes his move — he has never broken 70 on opening day, a streak that remained intact when he started with a 72.
Singh led after a bogey-free, 5-under 67 on Thursday, but plenty of top players were within striking distance as the tournament moved into the second round on warm, breezy day that figured to bake the already yellowish greens.
Last year, Woods struggled to a 74 in the first round but bounced back to win another green jacket.
"I'm better than I was last year, so I'm in good shape," Woods said.
Charles Coody said goodbye to the Masters with a respectable round. He was feeling good about himself, even though he didn't come close to making the cut. The 1971 champion decided to make this his final Masters at age 68 — a decision that seemed well-founded when he opened with an ugly 89, the worst score of the first round by five strokes.
But Coody bounced back to shoot a respectable 74 on Friday, rolling in a 15-foot putt to save par on the 18th hole.
"I'd like to be remembered as a nice guy and a fairly decent player," Coody said. "I know I'm not a Hall of Fame golfer. But nice guy and good family man, that would be good enough for me."
Coody was actually 1 under through 15 holes, but a bogey at 16 and double-bogey at 17 ruined his improbable bid to go out with a round in the red.
"I have a lot of respect for the tournament," he said. "That's one of the reasons I won't play anymore. I don't want to embarrass the tournament."
He didn't on this day, but the same couldn't be said of David Duval, who showed no signs of breaking free of his mystifying slump.
Duval shot an 84 on Thursday, then got off to a miserable start in the second round. He double-bogeyed the first hole, then put up a quintuple-bogey 10 at the par-5 second. He recovered a bit, making the turn at 43, but needed to shoot par on the back nine just to finish even with Coody — a player twice his age.
There were three major surprises on the first day — Rocco Mediate, Arron Oberholser and Ben Crenshaw.
Mediate, who slumped badly the last two years because of back problems, began with a 68 and seemed intent on hanging around when he played his first seven holes of the second round at 1 over.
"I've been hurt," he said. "When your body goes away, you can't do anything with the golf club. Even if you can do partial things, you've got to come play these guys. That's the killer."
The only other player to break 70 in the first round was Oberholser, a Masters rookie who shot 69. He didn't get off to a good start Friday, bogeying his first hole.
"No one expects me to win this championship," he acknowledged. "I don't expect myself to win this championship."
Then there's the biggest stunner. Crenshaw had not broken par at Augusta since a closing 68 at the 1995 Masters clinched his second green jacket. Heck, the 54-year-old Texan hasn't even made the cut in nine years.
Then he goes out and shoots 71 with a brilliant short game, putting himself in position to make it to the weekend. He showed no signs of fading away Friday, playing the front nine at even par — and missed several putts that could have taken his score even lower.
On the 20th anniversary of Jack Nicklaus' sixth Masters victory, could Crenshaw become the oldest winner in Masters history?
"Doubtful," he replied. "I've had my time here."
So has Coody.
"I'm glad," he said, "to get out with a decent round today."