SHANGHAI: Wang Qun does not look like a typical swimmer, but looks are deceiving.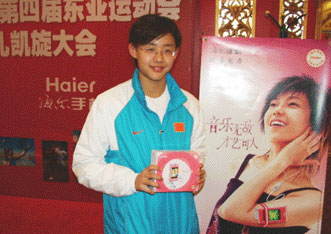 Weighing a mere 54 kilograms, despite being 1.74m tall, she has a figure that resembles that of a distance runner. Only her broad shoulders reveal her years of training in the pool.
Swimming in her first world short-course championships at age 13, the baby-faced prodigy managed to qualify for the final and placed seventh with a personal best time yesterday.
"I think I need to become stronger and power is what I need right now," said the beaming swimmer.
In a talented pool that included Athens Olympic silver medallist Brooke Hanson of Australia, Wang was fast enough to impress the crowd.
The young swimmer shot to fame by defeating China's breaststroke sensation Luo Xuejuan in the 100m event at the East Asian Games in Macao last year. She has given consistent performances in the following international competitions, and took out a silver medal at the World Cup meet in Berlin in January and gained two silver medals from the 2006 Asian Championships.
An article published by Swimnews.com in January told the world's best female breaststrokers to watch out for Wang, one of China's rising stars training hard for the Beijing 2008 Olympics.
"I did not come here for a medal because I know how strong my rivals are," Wang said.
However, Wang was able to cut about 0.2 seconds off her previous best time. "When it comes to the pool, it is all about your power, not your age," she said.
Tao Rong, a coach with China's team said he was amazed at Wang's potential. "She swam three seconds faster in the 100m event than last year," Tao said.
Tao said Wang needs basic efforts like increasing power and improving technique and he is not ready to push Wang into a real elite in a quick fashion.
"We want her to improve step by step.
"The 2008 Beijing Games is our ultimate goal."
(China Daily 04/07/2006 page15)