Three gems of Jiangnan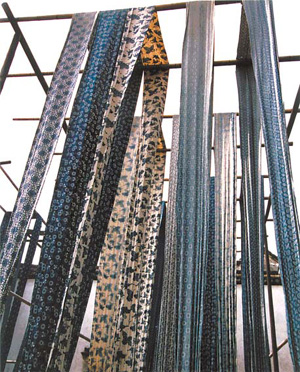 Bolts of cloth hang in a yarn dye workshop in Wuzhen, one of the most popular tourist destinations near Shanghai. [Photo/Dong Jinlin] 
Wuzhen is 10 minutes from my hometown of Lianshi. Even before the days of motor vehicles, it took only half an hour by steamboat.
Back in the 1980s, Wuzhen was strikingly similar to Lianshi. Now it is a big-name tourist town, fully restored to its old-time glory. Don't be fooled, most of the activities you witness - except tea sipping - are staged for tourists.
The yarn dye workshop with bolts of cloth hanging in the courtyard, the brewery with vats stacked up high, the outdoor theater, the incense market and the wedding procession in traditional garb are all part of a revival designed especially for outside visitors.
There is a Lin-family shop that sells tourist trinkets. It is based on the fictional venue in Mao Dun's namesake short story. The native son of Wuzhen was one of the better-known writers hailing from this rich soil of wordsmiths. His ancestral house is now a protected site.
Wuzhen calls itself a town that uses the river as its pillow. Rambling down its pebble street, I was reminded of how one would keep away the scorching sun in summer and how miserable life was in winter. A silk quilt was the best thing a body could embrace.
Only an hour from downtown Shanghai, Nanxun has always been the metropolis's backyard. A hundred years ago, the town was rolling in silk money. It boasted "four elephants, eight bulls and 72 gold puppies". No, it never served as a wildlife sanctuary.
An "elephant" denoted a family with at least a million taels of silver in wealth, a "bull" between half a million and a million, a "dog" 300,000 to half a million. In the late Qing Dynasty (1644-1911), the top family, the Lius, had revenues that exceeded more than a quarter of the annual intake of the royal court.
Liu Chenggan, grandson of Liu Yong who amassed the family fortune, embarked on a project of massive proportions: He expended 300,000 taels on the biggest private library of the time, housing 600,000 volumes at its best. Now, Jiaye Hall, the library, has been turned into a museum.
Next to the library is a 3-hectare garden called Little Lotus Garden. It took 40 years to build. The main style is traditional Chinese, but some of the architecture is early 20th-century Western style. The Lius donated much of their wealth to the imperial court, paying for the country's military service and disaster relief.
By Western standards, the estate was hardly a symbol of the nouveau riche showing off. Rather, much was hidden from public view. It is a sad reminder of how China's merchants lie at the mercy of political winds. However, the Lius are lucky.
Together with the Zhangs, another "elephant" family, their estate was not destroyed beyond recognition in the turmoil of history, allowing descendents a glimpse into a bygone era.
Huzhou used to be a county town. I first visited it at the age of 7 and it struck me as so big I got lost walking around. Decades later, I could not find the places where I used to play. I went to the Camel Bridge, but it looked totally different.
Wondering how a Jiangnan town had camels? Built in 685, it was deemed to resemble a camel's hump, hence the name. But the bridge was retooled to accommodate motor traffic in 1931, depriving one of the joy of comparison.
Huzhou does not have as many ancient bridges as Nanxun, Wuzhen or many of the old towns dotting the watery landscape. But it has the original Lotus Garden, on which the one in Nanxun is modeled, and Feiying Tower, a Buddhist structure with a smaller brick tower inside a larger wooden one.
Huzhou sits on the southern shore of Taihu Lake, so you can savor a fresh catch on a boat-shaped restaurant by the lake. In the town square, there is a bridge-like sculpture with hundreds of the Chinese character bi, or brush pen, in all calligraphic styles. An outlying town in its jurisdiction produces the country's best brush pen, which now serves mostly as an upscale gift item.
My strongest memory of the place is its silk factory, now defunct. While accompanying my mother on her visit to a friend who worked there, I stayed many days at its dormitory. I also witnessed how cocoons were made into fabric. It was the missing link between the mulberry trees I used to climb and the silk quilt, a gift from my mom, that still warms me.