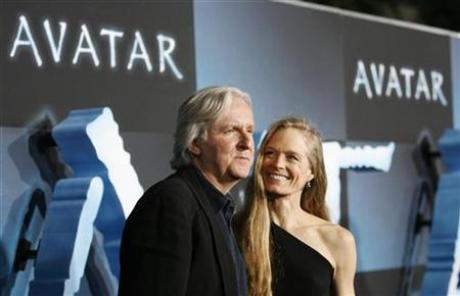 LOS ANGELES - "Avatar" ruled the worldwide box office for a fourth weekend on Sunday, creeping closer to the all-time record held by writer/director James Cameron's earlier effort "Titanic," distributor 20th Century Fox said on Sunday.
Cameron's 3-D sci-fi epic earned $191.5 million over the weekend, taking its global total to $1.3 billion.
"Avatar" passed the $1.12 billion tally of "The Lord of the Rings: The Return of the King" last Wednesday to become the second-highest worldwide release ever, trailing only "Titanic" with worldwide sales of $1.84 billion in 1997-1998. Data are not adjusted for inflation, and "Avatar" sales are also inflated by premium prices for 3-D screenings.
The North American contribution rose to $429 million, with weekend sales of $48.5 million propelling the movie to the No. 7 slot in the record books.
Fox, a unit of News Corp, said it expects "Avatar" to challenge the 2008 Batman sequel "The Dark Knight" ($533 million) for the No. 2 slot. "Titanic" holds the U.S.-Canada title with $601 million.
"Avatar" set a new record for fourth-weekend sales, having already set new marks for its second and third weekends. The film is enjoying strong holds every weekend as fans return for repeat viewings and occasional moviegoers show up to see what the fuss is all about.
The last film to enjoy four consecutive weekends at No. 1 was "The Dark Knight." "Titanic" was tops for a record 15 consecutive weekends.
DENZEL VS "AVATAR"
Its biggest challenge next weekend will come from "The Book of Eli," a post-apocalyptic action film starring Denzel Washington. His movies usually open in the $20 million range, with the notable exception of 2007's "American Gangster," which kicked off with $43 million.
International sales for "Avatar" now stand at $906 million after a weekend tally of $143 million from 111 countries. Top markets include France ($100 million), Germany ($73 million) and Britain ($67 million). It opened in China on Monday, setting an opening-week record of $40.2 million, Fox said.
"Avatar" is the tale of a disabled ex-Marine sent from Earth to infiltrate a race of 10-foot (3-meter) blue aliens and persuade them to let his employer mine their homeland for natural resources. It was reportedly the most expensive film ever made, with a budget of at least $300 million.
Elsewhere in North America, "Sherlock Holmes" spent a third weekend at No. 2 with weekend sales of $16.6 million. Director Guy Ritchie's caper, starring Robert Downey Jr. as the Victorian sleuth, has earned $165.2 million. It was released by Warner Bros. Pictures, a unit of Time Warner Inc.
Fox's "Alvin and the Chipmunks: The Squeakquel" was No. 3 for a third week with $16.3 million. The total for the live-action/computer animated sequel rose to $178.2 million.
The vampire movie "Daybreakers" opened at No. 4 with a solid $15 million, in line with the expectations of its distributor Lionsgate. The studio is a unit of Lions Gate Entertainment Corp.
Also new was the romantic comedy "Leap Year" at No. 6 with a modest $9.2 million, and the teen comedy "Youth in Revolt" at No. 9 with just $7 million.
"Leap Year," starring Amy Adams as a Boston woman who travels to Ireland to propose to her boyfriend, was released by Universal Pictures, a unit of General Electric Co. Women accounted for 79 percent of the audience, the studio said.
"Youth in Revolt," starring Michael Cera as a virginal teen, was released by the closely held Weinstein Co. It was shelved after filming finished in the summer of 2008.