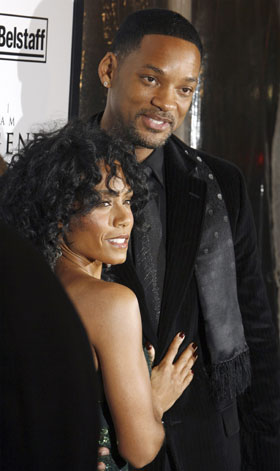 Actor Will Smith and his wife Jada Pinkett arrive for the premiere of the film "I Am Legend" in New York. [Agencies]
Will Smith has fired the headteacher of his Scientology-inspired school.
The actor and wife Jada Pinkett Smith have axed Jacqueline Olivier from her $200,000-a-year position at The New Village Leadership Academy after reportedly clashing over the school's curriculum, which is based on the teachings of the bizarre sci-fi cult's founder Ron L. Hubbard.
A source told website RadarOnline: "Jada phoned Jaqueline and told her that they had 'decided to go in another direction' with the school. As head of the campus her position was becoming untenable as she did not agree with Study Tech and felt uncomfortable with it."
Related readings:


 Jackie Chan praises kung fu of Will Smith's son


Will Smith's award-winning sex


 Will Smith' wife advice


 Will Smith, Beyonce among Kids' Favorite
It is understood Jacqueline - who "thrashed-out" a compensation package with the couple - has signed a confidentiality agreement about her time at the school.
The couple - who have both denied they are followers of the controversial faith - have now hired Piano Foster as they feel she is more suited to the role.
The source added: "They have appointed somebody else who is more 'in-line' with their thinking as to how the school should be run."
Foster said of her new job: "I officially took over on July 1, 2009, and I'm looking forward to the challenge. I've been working in education for the past 20 years at various public and charter schools so I feel I'm ready for the job."
The school opened last September but was met by several demonstrators who protested outside the main gates it was a front for Scientology teachings.
However, the couple - whose children attend the school - have always insisted the facility had no religious affiliation.
They claim the curriculum uses different educational theories, one of which is "Study Technology" - a learning method developed Hubbard.