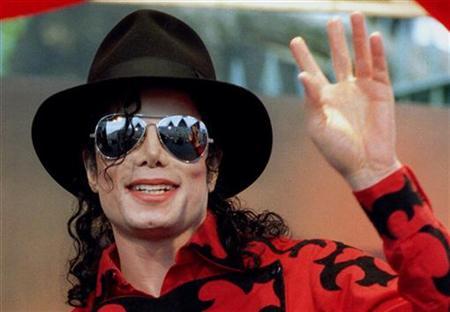 Michael Jackson waves to the crowd, numbering a few thousand, gathered in front of the Sydney Opera House in this November 17, 1996 file photo. [Agencies]
LOS ANGELES- Columbia Pictures and concert promoter AEG Live have struck a deal to make a Michael Jackson movie using video of his "This Is It" concert rehearsals taken days before the King of Pop died in June, according to court documents.
A Los Angeles Superior Court judge must first approve the deal at a hearing on August 10. AEG Live spearheaded the deal between Columbia, a division of Sony Corp's Sony Pictures Entertainment, and executors of Jackson's will.
Details of the movie agreement, and the $60 million in revenue that Columbia has agreed to pay for the film rights, were released in court papers filed late on Tuesday.
Jackson's estate and AEG Live, which is controlled by Denver billionaire Philip Anschutz, will share in profits from the film with the estate getting 90 percent and AEG Live getting 10 percent, court documents showed.
Spokesmen for both Columbia and AEG Live declined comment.
Media reports have circulated since last month of a possible movie deal using the more than 100 hours of rehearsal footage AEG Live shot as the "Thriller" singer prepared for a series of 50 shows in London.
Those concerts were widely billed as Jackson's "comeback" after his career flagged in the 1990s and 2000s, but he died suddenly of cardiac arrest in Los Angeles on June 25, only days before the shows were to begin.
Also tied to the movie deal is a merchandising agreement with Bravado International Group, a division of Universal Music Group that is owned by Vivendi SA and will see to the sale of Jackson-themed products.
That agreement needs to be approved by L.A. Superior Court Judge Mitchell Beckloff, who is overseeing the probate process on Jackson's will.
MILLIONS IN REVENUE
Howard Weitzman, an attorney representing the executors of Jackson's will, lawyer John Branca and music industry executive John McClain, said this week the deals could generate "millions of dollars of revenue to Michael Jackson's estate."
According to his will, Jackson's estate will be put into a family trust benefiting his mother, Katherine, his three children and charities.
Randy Phillips, the chief executive of AEG Live, said last month that a movie release of the rehearsal footage could help the Jackson estate erase its debt. The 50-year-old "Thriller" singer was said to be $500 million in debt when he died.
Separately, the celebrity news program Entertainment Tonight reported on Wednesday that Jackson's family had signed papers clearing the way for him to be buried at Forest Lawn cemetery in Los Angeles.
Plans for Jackson's burial have remained largely a mystery. A public memorial was held in Los Angeles, but Jackson's body has still not been buried pending results of toxicology tests as part of a police probe into the full cause of his death.
Police and U.S. drug agents investigating his death are probing the possible role of doctors who prescribed powerful medication to the singer. No date has been set for the release of an autopsy on Jackson.
A representative from Forest Lawn was not immediately available to comment.