Hong Kong actress Michelle Reis has joined the cast of Bodyguards and Assassins (Shiyue Weicheng), a blockbuster featuring 14 mainland and Hong Kong A-listers and an one-to-one scale reproduction of Hong Kong in 1905.
This is Reis' first film character, after her marriage to Hong Kong business tycoon Julian Hui in 2008.
Her role is that of a woman who influences the life of a beggar.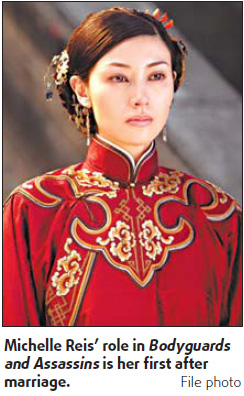 "If a woman can change a man's whole life, that's an attractive story to me," the 39-year-old says. "My role encourages a beggar to stand up to hardship and live with dignity and confidence. She makes me believe in love."
The film's producer, Peter Chan, invited Reis aboard as early as 10 years ago, when he started preparing for the project. Filming stopped when the investor committed suicide suddenly in 2004. In April 2009, the project re-started.
"Although the choice for who would play the beggar changed many times over the past 10 years, Reis has always been the only choice for her role," says director Teddy Chen. "She has the power to calm down, which has not changed in a decade."
Reis' co-stars include action star Donnie Yen, heartthrob Nicholas Tse, senior actor Tony Leung Ka-Fai, Eric Tsang, and mainland beauty Fan Bingbing.
The film, costing $23 million, describes how a group of kungfu masters helped revered Chinese revolutionary Sun Yat-sen escape from an attempted assassination in 1905.