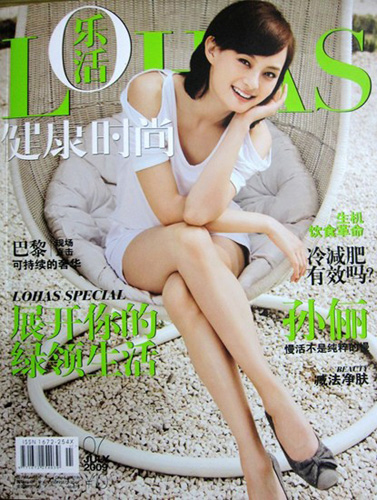 Actress Sun Li is featured on the cover of the July issue of LOHAS (Lifestyles of Health and Sustainability). In the accompanying interview, the actress opens up about her views on balancing a fast-paced career with a relaxed outlook on life.
Chinese actress Sun Li gained favour with American 'Women's Health' magazine for her healthy public image and made the cover of its Chinese version July issue. She is the first cover girl from the mainland that the magazine has featured in this way.
Her healthy public image has been taken to a new level through a fabulous photo spread for "TRENDSHEALTH" this month and this healthy and happy actress is now ready for her career to takeoff on the big screen.
She is the female lead in Jeffrey Lau's upcoming superhero movie "Metallic Attraction: Kungfu Cyborg". This follows the success of her supporting role in the 2008 film 'Painted Skin'.
'Cyborg', lauded as a Chinese version of 'Transformers', will hit theatres on August 13th.