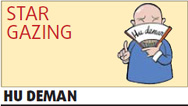 Congratulations to Hong Kong's Nicholas Tse and Cecilia Cheung, whose marriage is about to bear further fruit, according to website Chinanews. It said Cheung was to appear in a concert hosted by friend Fen Wei-chi next month but turned it down because her babe-to-be is scheduled to make its debut on the world's stage in February. The celebrity pair also has a son who will be 2 in August.

Cheung must have found it difficult to say no to the gig considering the desperate lengths she has gone to find work since she was caught playing "I'll show you mine" with Edison Chen, in 2008. After recently shooting a bedding commercial (how appropriate) she started looking for more substantial roles but was forced to cut costs. Hong Kong magazine Face said she wanted a part in the new Er Dongsheng movie, but had to reduce her fee from an initial 5.3 million yuan ($776,000), to 880,000 yuan; then 700,000 yuan ($102,000) for a role in a Peng Haoxiang film. "It's a solid 85 percent off!" Face reported.
Chen saga finally behind Cheung with Tse Jr 2 on the way?

Actress and mime artist Lin Miaoke is showing a maturity way beyond her 10 years in the way she deals with the press. After soaring to stardom at the Opening Ceremony of the Olympic Games, Lin has appeared in a TV remake of Dream of the Red Mansion and now an advert for washing detergent. The soap star turned up in a little red dress at a promotional event earlier this week and showed she could sing by belting out I Have One Country and Country.
This did not satisfy the assorted reporters present, according to the Ifeng.com posting, which said all they wanted to know was how much she had been paid for the commercial.
"Don't ask me about business," Lin responded. "I'm only going to answer questions about my studies."
This did not bring the press pack to heel, however, and a journalist asked Lin if she knew what her mother was doing with the money she earned. She refused to answer and only then did the assembled scribes ask her about her grades at school, at which point she admitted she's not the brightest pebble in the academic pond.

Actress and singer Joey Wong, 42, has shaved her locks and cloistered herself in Canada as a nun, according to a Sina.com report. The Taipei-born thespian made a pile of films in the late 80s and 90s, but in recent years has filled more column inches for her repeated farewells to showbiz.
It seems love has taken its toll on the unfortunate Wong. Her on-off boyfriend for the past 16 years, singer Chyi Chin, 49, has reportedly fallen victim to veteran model and screen siren Stephanie Hsiao, and religion has become her sole solace.
Compiled by Jules Quartly