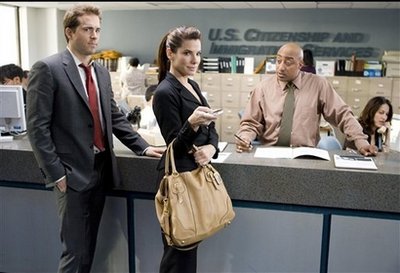 In this film publicity image released by Touchstone Pictures, Ryan Reynolds, left, and Sandra Bullock, are shown in a scene from, 'The Proposal.' [Agencies]
LOS ANGELES – All the romantic comedy conventions are shamelessly on parade in "The Proposal," trampling on our brains and turning them into mush.
They include an uptight character who literally lets her hair down to show she's loosening up, a spontaneous sing-along, wacky relatives, a shocking mid-wedding revelation, a mad dash to the airport and, finally, some very public I-love-yous.
Where is the creativity, people? By definition, this is a predictable genre — a guy and a girl who are clearly meant for each other eventually end up together, despite the many madcap obstacles and misunderstandings that come their way. We know the destination before we even park the car at the multiplex; it's how we get there that matters.
"The Proposal" seemed to be getting there with some spark and ingenuity, led by a couple of actors with solid comic chops. Sandra Bullock and Ryan Reynolds are both well suited for snappy banter and they play off each other with some nice friction off the top. Bullock has always shown a flair for physical humor, but here she gets a chance to play a scheming, tyrannical New York book editor, which is a refreshing change from her frequently daffy winsomeness.
But Anne Fletcher (who also directed the by-the-numbers "27 Dresses") and screenwriter Peter Chiarelli obliterate any good will they'd generated when "The Proposal" turns gushy, piles on the contrivances and goes precipitously downhill in the final act.
Bullock stars as Margaret Tate, a rigid Canadian who's on the verge of being deported. She blackmails her put-upon assistant, aspiring editor Andrew Paxton (Reynolds), into marrying her to stay in the country. Think they'll fall in love for real? In three days, no less? Perhaps in Sitka, Alaska, anything is possible.
That's where Andrew drags Margaret to meet his family to convince a persistent immigration official that they're a real couple. Some typical fish-out-of-water antics ensue. Margaret wears four-inch Christian Louboutin pumps and schleps her matching Louis Vuitton luggage for the weekend. She samples the local cuisine with horror. For her bachelorette party, Andrew's mom (Mary Steenburgen), grandmother (Betty White) and other family friends drag her to a bar for a little entertainment from a male stripper (Oscar Nunez, who has multiple functions on the island, none of which is terribly amusing).