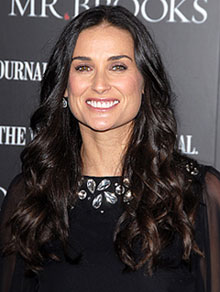 Demi Moore

The 44-year old star spoke out against ageism in an interview with Red magazine, and admitted that at her age, she was finding good roles extremely hard to come by.
Demi Moore rues the fact that Hollywood is so obsessed with youth, and that there are not many good roles for older women like her. She's also resentful about the fact that if there are roles for older women, they are most often as someone's mother or wife.
"It's been a challenging few years, being the age I am. Almost to the point where I felt like, well, they don't know what to do with me. I am not 20. Not 30," the Daily Mail quoted her, as saying.
"There aren't that many good roles for women over 40. A lot of them don't have much substance, other than being someone's mother or wife," she said. Moore, who once spent 220,000 pounds on plastic surgery to get breast implants, collagen injections and liposuction on her hips, thighs and stomach, as well as 5,000 pounds procedure to lift the sagging skin on her knees, insisted that aging actresses needed to stand up for better roles as they have a lot to give.
"If we are told we are not valuable once we hit 30, it is a problem. We all have more to give," she said. "We can't just wait for something to happen. We have to say, 'I'm mad as hell and I'm not going to take it any more'," she added.