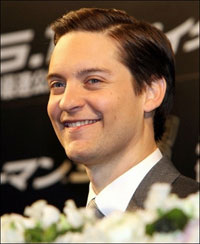 US actor Tobey Maguire who plays "Spider-Man". [AFP]
The third and possibly final instalment of the widely popular "Spider-Man" films was set Monday to make its world debut in Tokyo in a rare move for Hollywood as it sees more opportunities overseas.
Stars Tobey Maguire and Kirsten Dunst were expected in the Japanese capital for the gala red-carpet premiere of "Spider-Man 3," the latest chapter in the adventures of the web-spinning comic hero.
The potential summer blockbuster opens in Japan and other major Asian markets on May 1, three days before the United States. It will also come out on May 1 in some European countries including France and Germany.
The previous two "Spider-Man" films have raked in more than 1.6 billion dollars worldwide since the first was released in 2002, making it one of the most successful franchises of all time.
It marks the first time that Sony Pictures, despite its Japanese parent company, has chosen to debut such a high-profile film in Japan, the world's second-largest box office.
"Of course, we are looking to boost our proceeds in Japan," said a Sony official in Tokyo.
Last year domestic fare overtook Hollywood movies in revenue at the Japanese box office for the first time in 20 years thanks to a growing crop of high-quality Japanese productions.
Analysts said Sony's decision to launch the new "Spider-Man" in Japan was primarily symbolic as it will be out within days elsewhere in the world and can be expected to be a hit in the United States.
But more studios could decide to release films first in Japan, where Hollywood films usually come months after their US debuts.
"Sony wants to see the reaction of the Japanese public as an indication of the reaction of the public throughout the world," said Koya Tabata, a Sony analyst at Credit Suisse Securities.
"If the release doesn't get a strong reaction Sony would have to change its marketing strategies for the rest of the world," he said, but added that "Spider-Man" was "sure to be a big hit here."
In "Spider-Man 3," the superhero originally known as Peter Parker fights a sinister alter-ego represented by a completely black-clad Spider-Man.
Maguire has said it may be the final movie in the series due to artistic differences within the team.
"Spider-Man 3" producer Avi Arad said that the Japanese, with their own vibrant anime industry, were a demanding audience.
"'Spider-Man 3' was made with the Japanese movie market in mind," Arad told the Nikkei business daily.
"The Japanese market is very important because it is a test for new products," Arad said, as quoted in Japanese. "Japanese viewers enjoy sophisticated movies with eye-opening action scenes."
"But it's also been proven that unless the story is good, the movie won't be accepted", he said.