The 21st Century Maritime Silk Road Forum on International Communication and Chinese (Guangdong) Companies Going Global is to be held in Zhuhai from Nov 28 to 30, 2017.
The forum aims to integrate resources at home and abroad, provide suggestions to companies on how to go global as well as create an international exchange platform for companies to cooperate, take part in dialogues, share research achievements and promote economic and trade cooperation between China and foreign countries.
All day: Registration and Guests Check-In 18:30-19:30: Dinner 20:00-21:30: Evening Gala
09:00-09:57: Opening Ceremony 09:57-10:10: Inaugural Ceremony & Report Launch 10:10-11:30: Master Forum 11:30-13:30: Lunch 14:00-17:00: Parallel Forum I: Cooperation Dialogue Between Chinese and Foreign Media 14:00-16:30: Parallel Forum Ⅱ: "The 21st Century Maritime Silk Road" Reshapes Trade Pattern 14:00-16:45: Parallel Forum Ⅲ: Life Science Promotes a Healthy Silk Road 17:30-19:00: Dinner
09:00-17:30: Exhibition of the Achievements of Guangdong Companies in "Going Global" (In Parallel with Forums)
9:00-10:30: Visit Hong Kong-Zhuhai-Macao Bridge 10:30-12:00: Visit Hengqin New Area 12:00-13:30: Lunch Afternoon: Return Trip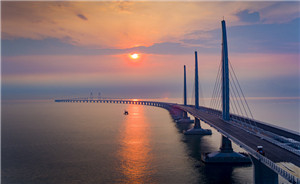 Zhuhai in South China's Guangdong province is striving to integrate into the Belt and Road Initiative, establishing itself as a major pivot and an international transportation hub by 2021.
Read More