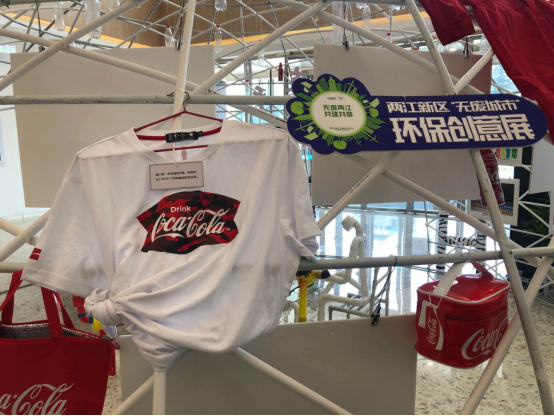 T-shirts and bags made of Coke bottles are presented at the exhibition. [Photo/liangjiang.gov.cn]
An exhibition with the tagline "No Waste, So Wonderful" kicked off in Liangjiang New Area, Southwest China's Chongqing municipality, on June 1.
The exhibition presents artworks made of waste to raise people's awareness of green development and low-carbon lifestyles. It will last until June 30.
The exhibition hall is made of waste metal pipes and plastic pipes and is decorated with tables, chairs, robots and zebra sculptures - all of which are also made of scrap materials.
At the exhibition, clothing and bags made from waste Coke bottles caught the eyes of visitors. With polyethylene terephthalate being their main component, the bottles can be made into fabric materials following processes including wire drawing, spinning and weaving.
Liangjiang's COFCO Coca-Cola Beverages Ltd adopts green development concepts and contributes to Liangjiang's water resource management, energy conservation, and emission reduction by reducing its water consumption, constructing sewage treatment plants, and promoting environmentally-friendly refrigeration technology.
The excellent results of a poster competition themed around environmental protection, recently held in Chongqing, are collected at the exhibition. Visitors can scan the QR code at the exhibition to listen to the environmental protection declarations of the poster designers and representatives from different areas in Liangjiang.
The concept of a "city with no waste" is to realize minimum solid waste production, the full utilization of resources, the safe disposal of waste, and a minimal influence on the environment.
To become a city with no waste, by the end of 2020, Liangjiang aims to improve the comprehensive utilization rate of general industrial solid waste from 45 percent to 80 percent, improve the coverage rate of collection and transportation systems for domestic waste from 22.5 percent to 50 percent, and increase the recycling rate of domestic waste from 22 percent to 35 percent.