A delegation from the United Kingdom visited eight primary and secondary schools in Liangjiang New Area, Chongqing Municipality from March 19 to March 23, seeking cooperation in overseas exchanges, resource sharing and curriculum building.
The delegation, which consisted of 20 education officials, experienced professionals, principals and full-time teachers from Wales, UK, studied the principles, methods and evaluation mechanisms of mathematics education in these selected Chongqing schools.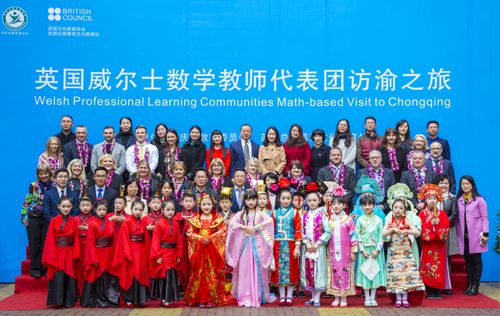 Delegates from Wales pose with teachers and students from Jinyu Primary School in Liangjiang New Area on March 19. [Photo/liangjiang.gov.cn]
The visit was jointly conducted by the Chongqing Municipality Education Committee and the British Council and organized by the Liangjiang New Area Bureau of Education.
As mathematics is an important part of Sino-UK cooperation in elementary education, Wales has targeted Chongqing Municipality for further projects.
Delegates were treated to Chinese etiquette and modern dance shows at Jinyu School, where they also observed an open class demonstrating the school's math education techniques. In a subsequent conversation, the two sides discussed the planning, design, practices and efficiency of the math class.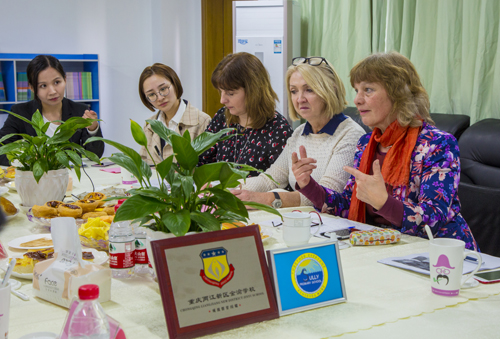 Teachers from the UK and Liangjiang discuss the planning, design, practices and efficiency of math classes during a casual discussion. [Photo/cqedu.cn]
At Jinzhou Primary School, delegates participated in a first-grade math class involving the tangram, a traditional Chinese dissection puzzle. They admired the ingenuity of tangrams and praised local students for their mathematical thinking.
The visit will hopefully promote the development of a more competitive global education system, according to the Liangjiang New Area Bureau of Education.
Liangjiang New Area will adhere to the principle of "expanding international schools, enhancing international communication and exploring areas of cooperation", bringing in more foreign education teams to build a world-class center of international education.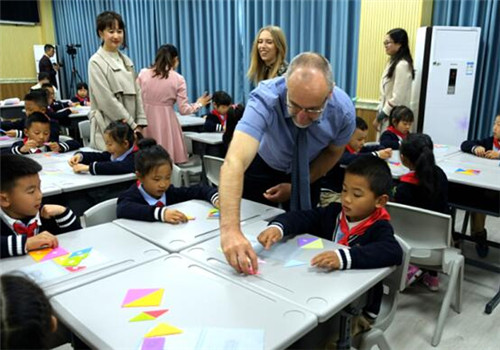 Delegates enthusiastically participate in a math class at Jinzhou Primary School on March 22. [Photo/liangjiang.gov.cn]