Beijing Hyundai Motor Co officially opened its new factory in the Chongqing Municipality for operations on July 19.
The new plant, located in the Yufu Industrial Development Zone in Chongqing's Liangjiang New Area, covers a 1.87-million-square-meter area and cost a total of 7.75 billion yuan ($1.15 billion) to construct.
The annual production capability of the plant is expected to reach 300,000 vehicles and 300,000 engines, with annual sales revenue expected to hit 36 billion yuan.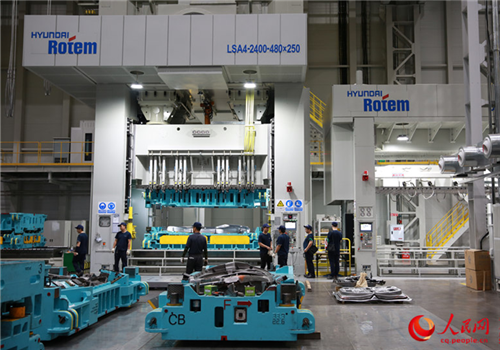 Workers debug manufacturing robots in Beijing Hyundai's new Chongqing plant. [Photo/cq.people.cn]
Xu Heyi, president of Beijing Hyundai, said, "The Chongqing plant is an important strategic base for the company to optimize its industrial layout and expand its market."
The Chongqing plant is Beijing Hyundai's fifth in China after Beijing and Cangzhou, and the first in southwestern China, helping the company to establish a nationwide industrial layout.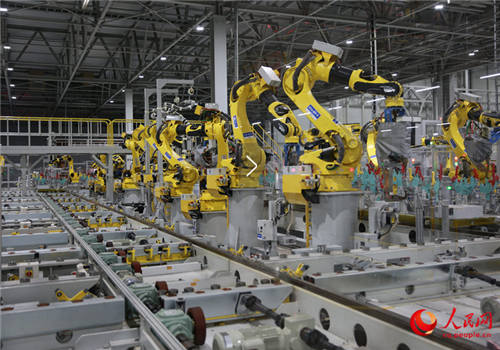 An array of welding robots have been installed in Beijing Hyundai's Chongqing plant. [Photo/cq.people.cn]
The plant is equipped with highly efficient and advanced automobile manufacturing equipment and totally automated production lines, including 300 sets of welding robots in the plant's fully automated press shop.
Employing high density composite board and TPO waterproof materials to ensure environmental conditions in the workshop, the plant also uses LED lighting and natural lighting to conserve energy usage.
Chen Lyuping, vice mayor of Chongqing, said that Beijing Hyundai's Chongqing plant will promote the local modern manufacturing industry and boost the upgrade of the local automobile industry, building Liangjiang into a key national automobile production base.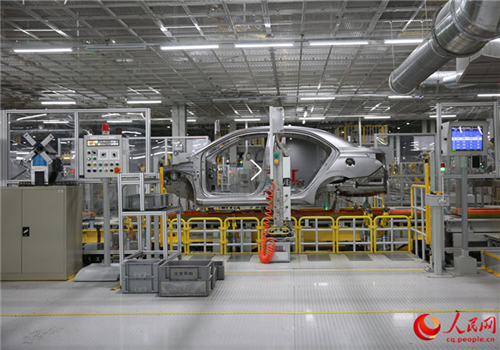 A Hyundai car is automatically assembled at Beijing Hyundai's new Chongqing plant. [Photo/cq.people.cn]
Edited by Zachary Dye