OneSpace sets launch of private carrier rocket
Updated : 2018-05-14
( China Daily )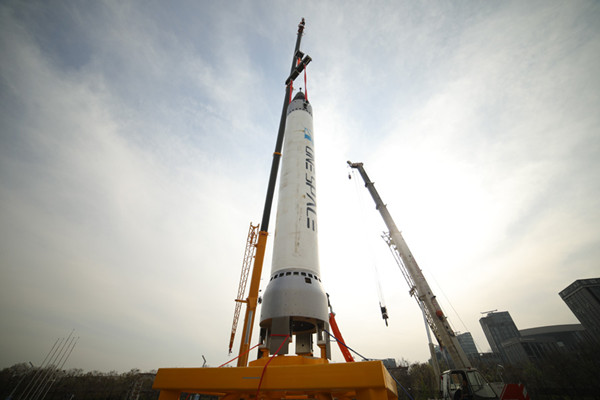 A Chongqing Liangjiang Star rocket is assembled in Beijing last month. It was developed by OneSpace, China's first private rocket producer.Provided To China Daily
OneSpace Technology, China's first private rocket producer, announced on Tuesday in Chongqing that the maiden launch of the company's OS-X0 solid-fuel rocket is scheduled for May 17 in a test field in northwestern China.
The company said it represents the first flight of a carrier rocket entirely designed and built by a private company in China.
The rocket has been moved to the test field, and the company is busy preparing for the launch. According to an earlier report in China Daily, the test field is in the Inner Mongolia autonomous region.
The 9-meter-tall OS-X0, called the Chongqing Liangjiang Star, is capable of placing 100-kilogram payloads into orbit 800 kilometers above Earth. The rocket can push concept aircraft it's testing to a hypersonic speed of Mach 13, or 4.4 kilometers per second.
Once proved via test flights, the OS-X series will be tasked with testing new types of aircraft or spacecraft.
Established in 2015 as part of a government effort to foster the commercial space sector and encourage participation by private enterprise, OneSpace has become a rising star in the country's space arena.
"Our company will focus on the high-frequency emissions of carrier rockets," said Shu Chang, founder and chief executive of OneSpace Technology, a privately owned startup in Beijing, adding that OneSpace expects up to 10 missions for such rockets in 2019.
"I hope we can become one of the biggest small-satellite launchers in the world," Shu said.
In May last year, OneSpace Technology signed an agreement with Chongqing Liangjiang Aviation Industry Investment Group to build its research and manufacturing base in Chongqing.
"It is the center of western China and has a strategic position in the Belt and Road Initiative," Shu said. "The countries participating in the initiative will provide a large market for us."
Chongqing Liangjiang New Area is the third national development and opening zone in China - and the first inland location - approved by the State Council, after Shanghai's Pudong New Area and Tianjin's Binhai New Area.
The Chongqing base, which will go live by the end of this year, will include a research center, a smart manufacturing and assembly center, a test center, an aircraft control and simulation center and specialized labs. It is expected that its annual output value will reach 1.5 billion yuan ($240 million), with capacity to assemble and test 30 carrier rockets per year.
OneSpace is developing the OS-M1, a larger rocket, to send small satellites into sun-synchronous or low-Earth orbits. It plans to conduct OS-M1's first flight around the end of this year.
The company is expected to produce more than 30 OS-M series rockets and over 20 OS-X series rockets in 2020.
"We will develop bigger rockets in the future and participate in the global competition," Shu said.