JD Finance to push AI application with data discovery contest
Updated : 2017-11-07
( chinadaily.com.cn )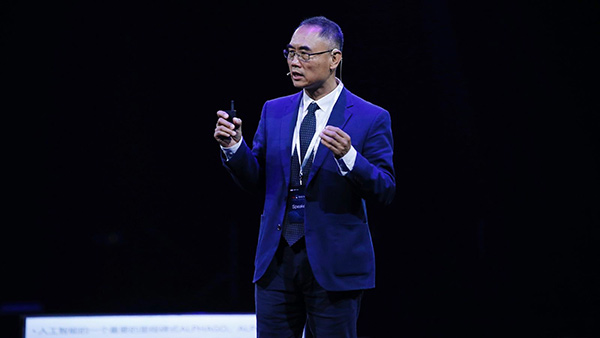 International Joint Conferences on Artificial Intelligence 2017 Awards Committee Chair Yang Qiang made a speech at the JDDiscovery conference in Beijing on Nov 6, 2017. [Photo provided to chinadaily.com.cn]
JD Finance, the finance arm of China's B2C e-commerce giant JD.com, and leading venture capital firm Sequoia Capital jointly launched a contest on Monday to speed up artificial intelligence application in the finance sector.
Shen Nanpeng, also known as Neil Shen, global executive partner of Sequoia Capital, said that finance sector, a highly digitalized sector, could be a very suitable scenario for AI application.
"We have to be very careful in selecting which sectors are easier for AI to be applied as not all industries would see successful AI applications," said International Joint Conferences on Artificial Intelligence 2017 Awards Committee Chair Yang Qiang, in a keynote speech delivered on the JDDiscovery conference before the launch of the contest.
The JDDiscovery contest, which will run between Nov 6 and Dec 17 in both China and the United States, has four test questions, which are log-in identification, store sales prediction, credit demand prediction and facial recognition of pigs, according to JD Finance.
JD Finance CEO Chen Shengqiang said the company would like to connect its data and application scenarios, which are prerequisite for using AI, and open them to participants.
"We not only need technological innovation, but hope participating teams could write a business proposal and figure out business scenarios for application," said Yang, also head of Department of Computer Science and Engineering, Hong Kong University of Science and Technology and a mentor for the contestants.
Yang said that he hoped that JDD could be a starting point for the combination of the academia and the finance sector.