Premier Li talks with a cute robot
Updated : 2016-10-28
( http://english.gov.cn/ )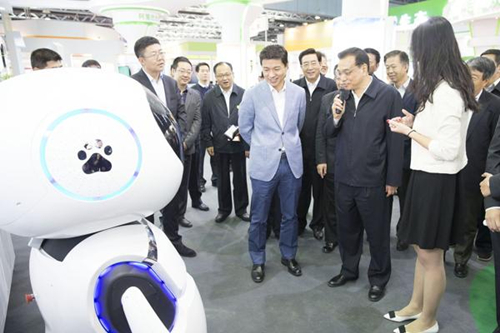 Premier Li Keqiang had a chat with a cute robot during the National Mass Entrepreneurship and Innovation Week event in Beijing on Oct 19.
The robot, named Xiao Du, was independently researched and developed by Baidu, a big internet enterprise in China.
"Why are you called Xiao Du?" the Premier asked.
"Because I'm made by Baidu," the robot answered.
"How much data do you have?" Premier Li enquired.
"A huge amount of data," the robot responded.
The Premier then asked about the day's PM2.5 reading. While the robot was "thinking", he added: "Do you know that mass entrepreneurship and innovation can also improve the environment?"
The robot said decisively: "Of course!"
The robot's answering amused everyone present.