Tencent, JD.com take e-commerce cooperation to next level
Updated : 2015-10-17
( chinadaily.com.cn )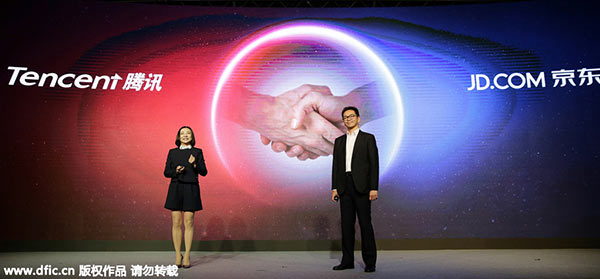 On Oct 17, 2015, in Beijing, Tencent and JD.com launched a project in an aim to provide a solution for companies in terms of building their brand images and improving their marketing performances.Xiong Qingyun,(left) vice president of JD.com and Lin Jinghua, vice president of Tencent are on the stage of the launch ceremony. [Photo/IC]
China's Tencent Holdings Ltd and JD.com Inc are strengthening their ties in social e-commerce by creating a joint partnership to reshape the country's traditional marketing and advertising industry.
On Saturday, Tencent, founder of popular social media platforms WeChat and QQ and China's second largest e-commerce player JD.com launched a project in an aim to provide a solution for companies in terms of building their brand images and improving their marketing performances.
By integrating Tencent's social networking data with JD.com's online shopping data, the project named 'Brand-Commerce' is expected to help companies reach their target buyers in the most ideal online channel while facilitating purchases for the consumer.
Liu Qiangdong, chief executive officer of Beijing-based JD.com, said the project will help companies achieve better sales performance as well as bring a better shopping experience for customers.
"We don't want to boost the number of advertisements. On the contrary, we want to reduce it by advertising to the right group of people," said Liu.
Shenzhen-based Tencent, which has about 600 million monthly active users on WeChat and 843 million monthly active users on QQ, already owns 15 percent stake in JD.com.
Pony Ma, chief executive officer of Tencent, said that his company's social networking tools cover a wide range of age groups. "Through further cooperating with JD, companies are able to better understand their customers and reach their target buyer in a more accurate way," said Ma.
The strengthened cooperation with Tencent is seen as the latest move for JD.com in its ongoing battle with e-commerce rival Alibaba.
Due to the slowdown in China's economy, the population of Chinese online shoppers may soon reach its peak. E-commerce players have been eagerly spreading their wings to other industries in order to maintain solid future growth.
Alibaba Group announced Friday its proposal to take full control of Youku Tudou Inc, a leading Internet video company in China. It's a move to push into the digital entertainment industry.