China's JD.com leads fresh $500 million investment in travel site Tuniu
Updated : 2015-05-08
( Agencies )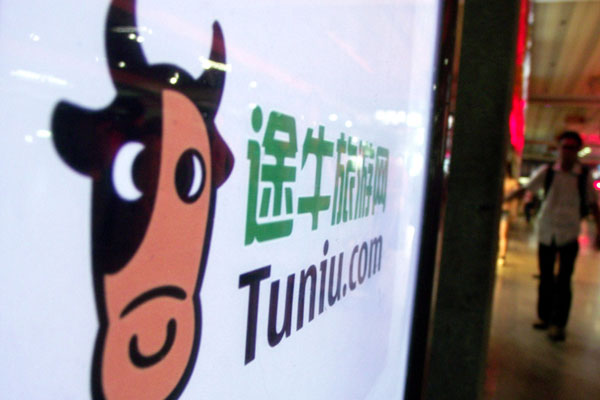 A pedestrian walks past an advertisement of online travel agency Tuniu.com in Nanjing city, East China's Jiangsu province, June 12, 2013. [Photo/IC]
Chinese travel website Tuniu Corp said on Friday it has sold $500 million worth of new shares to a group of investors led by JD.com Inc, China's No. 2 e-commerce site, as part of a tie-up to boost its customer base.
Tuniu sold $350 million of Class A ordinary shares to JD.com at $5.33 each, with the remainder going mainly to private equity funds, the pair said in a joint statement.
As part of the deal, JD.com, which has close to 100 million active customer accounts, will hand over its travel site to be exclusively operated by Tuniu. JD.com will forgo commission on its Tuniu-operated site, but collect fees on flight and hotel bookings made through Tuniu via other JD.com pages.
For JD.com, the partnership with one of China's leading travel site could boost its fledgling and potentially lucrative travel business.
Chinese outbound tourism is likely to reach $264 billion by 2019 from $164 billion last year, according to Bank of America.
Nasdaq-listed Tuniu, which specializes in selling packaged tours and cruises, reported $570 million in 2014 revenue, up 81 percent from a year prior.
The company's share sale will value its American depository notes at $16 each, or a 7.3 percent discount to the firm's Thursday closing price of $17.26.
Tuniu previously received financing from JD.com in December, when the e-commerce firm led a consortium that injected $148 million.