WHO officials visit Chinese biomedicine producer
Updated : 2014-12-31
( bdainvest.org )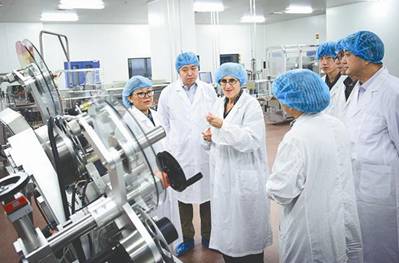 WHO doctor talking with Tiantan staff in the poliovirus vaccine research lab, in E-town. [Photo/Beijing Tiantan Biological Products Co]
The World Health Organization sent a poliovirus team to get a look at the new production line of Beijing's Tiantan Biological Products Co, in the city's Economic Technological Development Area, or E-town, where they also held discussions with staff members on the details of an inactivated poliovirus vaccine (IPV) program the company is working on.
The WHO doctor said they hope the company's vaccine can be on to the market as soon as possible and that they can work closely with the WHO's global poliovirus elimination program.
WHO established a goal out of eradicating the global threat, back in 1988, and their medical teams have seen some great progress. The representatives also encouraged the company to take a more active part in international R&D exchanges, according to a Dec 5 report from E-Times, the E-town's weekly.