Cloud technologies: leading technological development
Updated : 2014-11-20
( chinadaily.com.cn )
Files in computers can be stored in the cloud instead of on hard drives; box office calculations can be calculated through mining data and analyzing them based upon billions of microblogs and BBS comments before a film is released; computer resources can be bought on demand instead of a one-off purchase for new scientific and technical corporations – in the cloud computing age, all these thoughts will be realized.
China's first cloud base, now a national advanced base containing a whole industrial chain of cloud computing, settled down in Etown on Aug 16, 2010. The computer industry here covers cloud computing software, hardware, platforms, support services and other related links.
In the near future, China's biggest research and development center for cloud computing technology, an operations and value-added services center for cloud computing, a manufacturing base of cloud computing facilities and a cloud data platform will be built in Etown sequentially to create an important growth point of the new generation of information technology, and Beijing will become a core in cloud technologies nationwide, or perhaps even worldwide.
The cloud base in Beijing [Photo from Beijing Daily]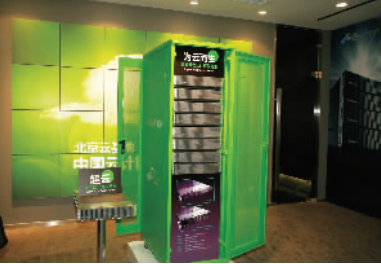 A super cloud server [Photo from Beijing Daily]