Siming sets sights on attracting top talent
Extensive polices, programs in place to ensure excellent business environment
Siming district in Xiamen is strengthening its efforts both to attract top talents from across the country and further afield, and to ensure their working and living environment is world-class when they arrive.
Xiamen, in East China's Fujian province, has long implemented a strategy aimed at providing top services to talented professionals and enterprises, and Siming district has implemented this strategy to with related policies and programs.
These cover a range of industries and include financial support for startups and a training program for Chief Liaison Officers-corporate seniors or human resources managers-whose task is to liaise with local authorities to get the latest information or policies and explain them to companies.
Such is Siming's strength in this area and in attracting talented professionals and businesses, the district accounts for nearly 50 percent of Xiamen's total enterprises and young leaders who run startup businesses, as well as many high-tech products that have been used in the fight against novel coronavirus.
Reform and innovation
Siming district has rolled out preferential and flexible policies for all qualified personnel and college graduates. Policies have also been introduced to provide project operators and companies with incentives for attracting talents and to boost confidence of corporations.
The district provides incentives for talents in operating headquartered businesses and in six industries including advanced technology and trade in services.
The district government said it provides top talents with startup funds between 500,000 yuan ($76,050) and 4 million yuan. It gives senior executives allowances of 200,000 yuan to purchase an apartment (or 4,000 yuan per month if renting) and gives priorities to their children's education.
In addition, a total of 2,054 CLOs from the Siming district team up to tour companies to promote and explain local policies and guide executives in personnel management.
According to the district government, it has not only organized more than 1,000 Chief Service Officers-government employees who provide streamlined services to businesses-to visit and learn about management difficulties, it has also created tailor-made policies to help cultivate key talents for headquartered companies such as Anta and Jomoo.
Moreover, the government has conducted eight activities to help companies evaluate professionals to be 337 top personnel in the district.
Talent destination
So far in 2020, the district has welcomed or produced 128 top talents. Seventeen of them are experts from China's Taiwan and 18 are young adults from Siming's overseas and leading talent introduction plan.
Promotional activities at universities across the country, including Xiamen University, Sichuan University and the University of Electronic Science and Technology of China, have been carried out throughout the year.
By the end of October, Siming district had introduced 23,758 college graduates, accounting for more than 40 percent in Xiamen.
Focusing on helping connect graduates with companies, the district has set up an alliance for introducing college graduates. It has signed online agreements with 27 universities and colleges in eight provinces to promote talent attraction policies, share employment information and to cooperate to help graduates find jobs or start their own businesses, according to the district government.
In the next two to three years, the alliance will organize 3,000 CLOs to seek 30,000 job opportunities and establish 30 work stations to introduce talents to the city. A talent pool of nearly 300,000 college graduates is also planned, local officials said.
The district has also empowered companies to recommend top talents in a bid to give full play to their role in cultivating professionals, local officials said.
Through this, the district has produced 99 talents for locally headquartered companies and major industries this year and has included nine corporations in its current plan for talent training.
Driven engine
In 2020, Siming district launched the first talent community project in Fujian province, which conducted policy learning, employment services and talents exchanges through the integration of various online platforms and services.
The community aims to build an offline platform for talents to conduct exchanges and gather them to share their experiences to enhance their skills, local officials said.
Home to major commercial areas in Xiamen, Siming attaches great importance to talent introduction in its industrial parks including the Guanyinshan commercial business center, the Longshan cultural and creative park and the Jiaheliangku cultural and creative park.
This year, the district has collaborated with 10 facilities to set up talent service stations offering policy consultation, employment guidance and other related services, forming a comprehensive network for personnel service.
Streamlined procedures
Due to the impact of the novel coronavirus outbreak this year, the district government has streamlined its procedures for talent attraction. So far, it has provided a total of 40.37 million yuan to support 1,387 talents in terms of living and housing subsidies.
In 2021, Siming will continue to improve its talent introduction system and optimize its service pattern to help the district become a talent powerhouse and realize high-quality development, according to its plan.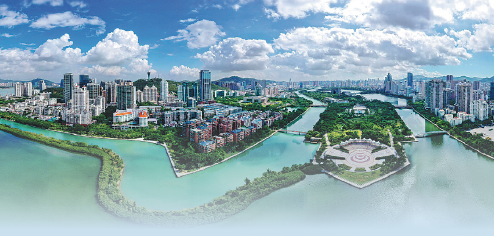 An aerial view of the landscape and urban development in Siming district of Xiamen in East China's Fujian province, which shows the charm of the district's living environment and strength in attracting talents. ZUO JIANAN/CHINA DAILY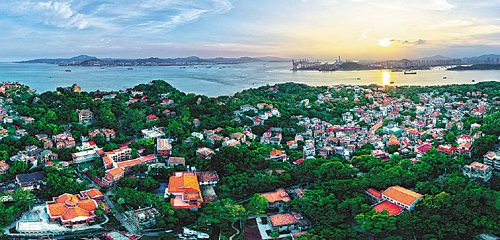 An aerial view of the landscape and urban development in Siming district of Xiamen in East China's Fujian province, which shows the charm of the district's living environment and strength in attracting talents. ZUO JIANAN/CHINA DAILY