Lychee export of Maoming, Zhanjiang rises by over 60%
(chinadaily.com.cn)Updated: 2020-07-10
According to data from Zhanjiang Customs, Maoming and Zhanjiang in Guangdong province, which are within the jurisdiction of the customs, have exported a total of 1,856.8 metric tons of lychees by July 4, a year-on-year increase of 64.8 percent.
The total value of the exported lychees reached 35.85 million yuan ($5.11 million), up by 45.9 percent from the same period of the previous year.
Lychees are one of the famous high-quality fruit varieties in Maoming and Zhanjiang. The two places boast an over-1,000-year history of lychee cultivation, and currently have a total lychee plantation area of about 1.67 million mu (111,333 hectares).
Maoming is the largest lychee production base in the world. It has a lychee cultivation area of more than 1.35 million mu, accounting for one fifth of the country's total.
Due to the impact of the novel coronavirus (COVID-19) pandemic, the risks of export trade increased. To address this situation, Zhanjiang Customs took the initiative to inform enterprises of the inspection and quarantine of lychee exports in previous years, analyze relevant countries' restrictions on China's export of agricultural products due to COVID-19, as well as guide enterprises to adjust their export plans in advance.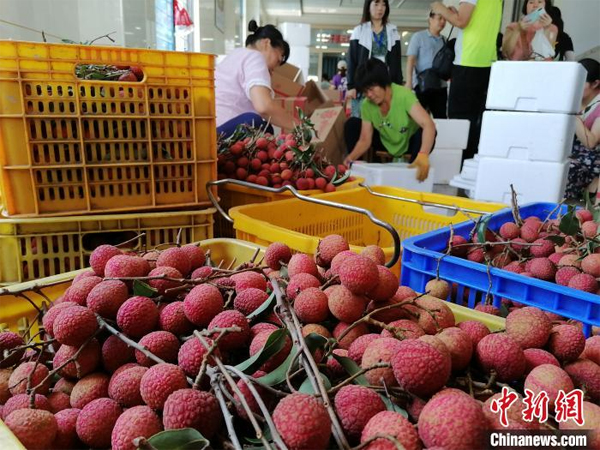 Workers single out and package lychees. [Photo by Liang Sheng/Chinanews.com]