'New Shao Music' makes its world debut in Guangzhou
(chinadaily.com.cn)Updated: 2019-12-03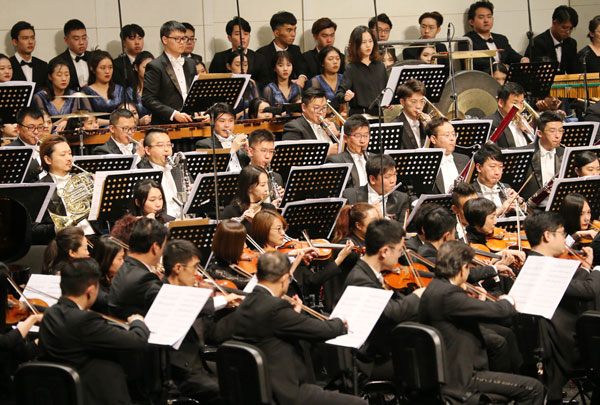 Nine Movements of New Shao Music, a grand symphonic suite, makes its global debut in Guangzhou on Dec 2. [Photo by Zhang Wei for chinadaily.com.cn]
Nine Movements of New Shao Music, a grand symphonic suite modeled on the ancient Chinese court music Shao music, made its global debut in Guangzhou on Dec 2, winning prolonged applause from an audience of more than 1,600 people.
Dating back to more than 5,000 years ago, Shao music was a kind of court performance art that integrated poetry, music, song, and dance. It was spoken highly of by several ancient Chinese cultural sages like the renowned philosopher and writer Confucius.
According to Ye Xiaogang, chairman of the Chinese Musicians Association, Shao music is the highest-level and longest-lasting court music in ancient China.
Jointly sponsored by the Chinese Musicians Association, the Central Conservatory of Music, and the Shaoguan municipal government, it took over two years to finish the Nine Movements of New Shao Music, which was composed by eight composers, including Ye.
The music combines both the elements of the ancient Shao music and modern music. It has become the Shao music of the modern era instead of simply restoring the ancient music genre, Ye added.
"Shaoguan, a city with a very long history, derives its name directly from Shao music," said Liu Qiyu, head of the publicity bureau of Shaoguan. "The city has been promoting the cultural development related to Shao music in recent years to carry on the excellent Chinese cultural heritage."
The symphonic suite will be staged in Shanghai and Beijing next year, with global performances also booked on the calendar.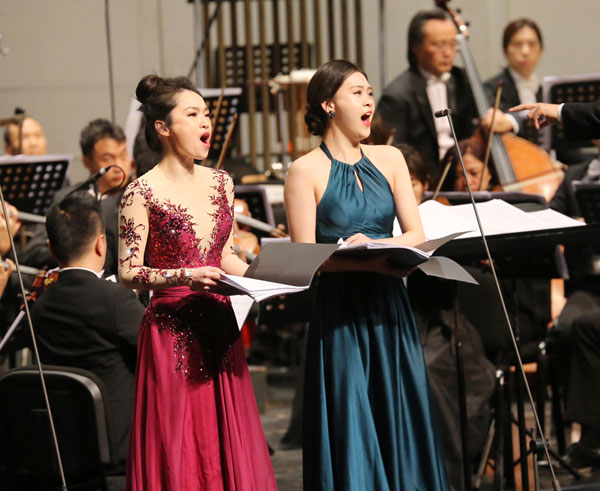 Performers of Nine Movements of New Shao Music. [Photo by Zhang Wei for chinadaily.com.cn]