Maritime Silk Road forum opens with global vision
(cityofzhuhai.com)Updated: 2019-10-22
The 3rd 21st Century Maritime Silk Road China (Guangdong) International Communication Forum formally opened on Oct 22 at the Zhuhai International Convention & Exhibition Center in Shizimen.
Three hundred senior government officials, foreign and domestic mainstream media representatives, world-renowned scholars and experts, as well as business executives explored the Integration of the Maritime Silk Road and Greater Bay Area Development during the two-day event.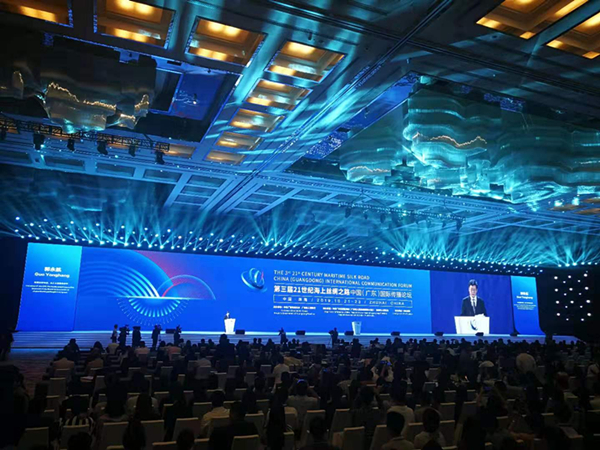 The opening ceremony for the forum. [Photo by Zhong Fan & Li Jianshu/Zhuhai Daily]
American economist Angus S Deaton, 2015 laureate of the Nobel Memorial Prize in Economic Sciences made a keynote speech titled "China and the West: Wealth, Health and the Inequity" at the master forum.
Other keynote speakers, Chi Fulin, president of the China Institute for Reform & Development; Fan Gang, secretary-general of the China Reform Foundation; David Gosset, founder of the Euro-China Forum; and others shared their visions on the Maritime Silk Road and Greater Bay Area construction.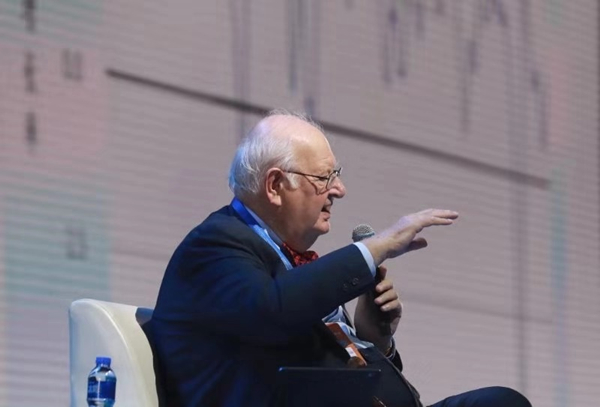 Angus S Deaton makes keynote speech. [Photo by Zhong Fan & Li Jianshu/Zhuhai Daily]
Strategic cooperation agreements are to be signed between Zhuhai Media Group, Macao Commercial Post International Media Group, Telediffusion of Macao Co, and Macao Cable TV during the forum.
Meanwhile, three parallel forums shined the spotlight on External Communication of Greater Bay Area Development, Media Integration in International Communication Innovation, and City Image Building under the Belt & Road Initiative.
Also in the spotlight was a bilingual book exhibition of Thought on Socialism With Chinese Characteristics for a New Era, a 5G+4K/8K+AI intelligentized media display, and joint cultural-tourism photo exhibition of countries along the Belt & Road.
The event was hosted by China Media Group and the People's Government of Guangdong Province with organization of the Publicity Department of the CPC Guangdong Provincial Committee and Zhuhai Municipal People's Government.