A 6-day adventure in South China's Guangdong province
(chinadaily.com.cn)Updated: 2019-09-12
Starting from May 1, 2019, nationals from 53 countries can enjoy a 144-hour visa-free period when transiting through southern China's Guangdong province. The policy applies to passengers from 53 countries including Britain, the United States, Australia, Japan, Denmark, France, Germany and Russia. They are required to carry effective international travel documents and have onward travel tickets with confirmed dates and seats within 144 hours.
Passengers can enter Guangdong via its three airports – Guangzhou Baiyun International Airport, Shenzhen Bao'an International Airport and Jieyang Chaoshan International Airport – and leave via the province's 32 ports.
Guangdong province is located in the southernmost part of the Chinese mainland. It borders Fujian province in the east and Jiangxi and Hunan provinces in the north. To the west is Guangxi Zhuang autonomous region, and to the south is the South China Sea. Covering 179,700 square kilometers, of which 1,448 sq km are islands, the province has 21 prefecture-level cities. Its unique geography and climate serve as rich tourism resources. Below is a suggested itinerary for a six-day trip in Guangdong. It includes many scenic spots and plenty of delicious Cantonese food.
Day 1: Guangzhou
Guangzhou is home to rich tourism resources and you will never regret visiting the city. Your first stop in Guangdong province can be Chimelong Tourist Resort, the largest comprehensive tourist resort with the most theme parks. You can go to the resort by airport bus in 75 minutes or take metro line 3 to the resort in about one hour.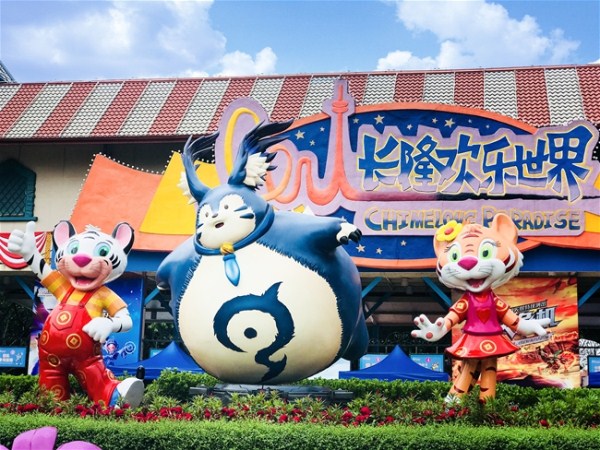 Chimelong Paradise enjoys worldwide acclaim in the tourism industry, earning the venue the title of "Model for New Generation Amusement Parks." [Photo/int.chimelong.com]
Guangzhou Chimelong Tourist Resort is a comprehensive tourist resort offering travel and leisure services to satisfy the diverse demands of worldwide tourists. It boasts several first-grade theme parks and hotels, including Chimelong Paradise, the Chimelong International Circus, Chimelong Water Park, Chimelong Safari Park, Guangzhou Crocodile Park and Chimelong Hotel. There are nearly 70 rides at Chimelong Tourist Resort, including vertical roller coasters, 10-ring roller coasters, motorbike roller coasters, U-shaped skateboards and super waterwheel wars.
After having an exciting experience with the recreation facilities, you may want to enjoy some delicious food in Shangxiajiu Pedestrian Street. You can easily get there by metro.
Shangxiajiu Pedestrian Street is one of the three traditional prosperous commercial centers of Guangzhou. The street is 1,237 meters long, with more than 300 shops of all kinds and thousands of commercial tenants. The street is a showcase of traditional Cantonese architecture, Lingnan architectural and food cultures and folk customs.
Additionally, the street features a variety of restaurants and street vendors where you can find delicious dim sum and local snacks. Recommended foods include intestinal powder, wonton noodles, fish skin porridge, soup dumplings, shrimp dumplings, shao-mai, custard buns, milk custard, and pork blood soup.