Greece, Guangzhou benefit from cooperation
(eguangzhou.gov.cn)Updated: 2019-09-10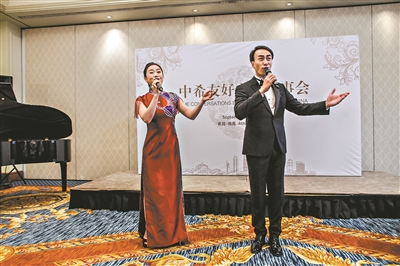 A Cantonese opera performance is staged during the storytelling event. [Photo/Guangzhou Daily]
Greece and China, two ancient countries enjoying a longstanding history, carried out a storytelling event in Athens, Greece on Sept 6, aiming to promote cooperation and communication between the two countries.
The event was organized by the Information Office of the People's Government of Guangdong province and the Radio and Television Administration of Guangdong province, and was undertaken by the Guangzhou information office.
Zhang Xi, an overseas Chinese youth, has been devoted in promoting economic and trade communication between Greece and China. "Before I was born, my mother has participated in the China Import and Export Fair over 10 times as an exports saleswoman," said Zhang.
Currently Zhang takes Greek businessmen to the fair every year and he sometimes travel to Guangdong province to help joint ventures by China and Greece in the province deal with problems. Zhang added that he never forgets his Chinese roots.
Early in the 2nd centuries BC, Guangzhou became a trade ports between China and foreign countries and regions like India, Greece, and Rome.
The number of Chinese working, doing business or studying in Greece has amounted to 30,000 since 1990s. In 2018, the trade volume of light industrial products such as shoes, boots, and umbrellas that Greece imported from China reached $189 million.
Huang Xudong, chairman of the Greek Chinese Trading Business Association, said that the launch of the Belt and Road Initiative has benefited Chinese businessmen greatly, boosting the rapid economic and trade development among the two countries.
"I've been managing footwear trade for 15 years and the fine quality, along with the reasonable prices of Chinese footwear has impresses the Greeks a lot. Products from China have been well-received by the Greeks," added Huang.