Foshan eyes becoming city of Cantonese cuisines and famous chefs
(Foshan News)Updated: 2019-06-14
The city of Foshan in south China's Guangdong province revealed its ambition of becoming a city renowned for Cantonese cuisines and famous chefs following the launch of its "1+5" projects at a press conference on June 13.
The "1+5" projects proposed focus on the city's goal of building a world-renowned "City of Cantonese Cuisine and Chefs" by promoting the brand of Foshan cuisines through five aspects, namely, the training of catering talents, the construction of food experience facilities, the supply of raw materials, the strategy of "go global", as well as the integration of culture, tourism, and catering.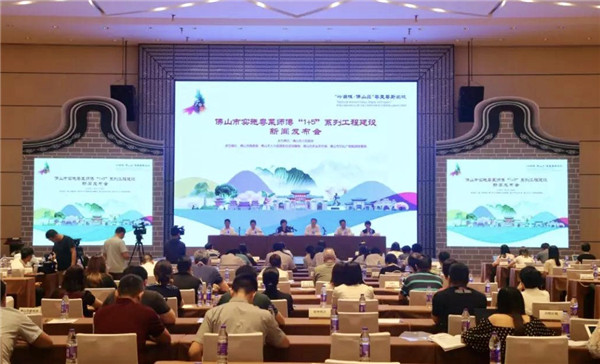 The city of Foshan holds a press conference on June 13 to launch its "1+5" projects. [Photo provided to chinadaily.com.cn]
According to plans issued at the conference, Foshan will implement the "1+5" projects over three years and invest 100 million yuan ($14.4 million) annually to support the projects. By 2021, the total retail sales of the catering industry in the city is expected to reach 50 billion yuan with an average annual growth of about 10 percent. The total revenue of the tourism industry is expected to exceed 100 billion yuan with an average annual growth rate of about 10 percent.
In addition, Foshan will strive to build more than eight gourmet streets and a municipal level museum for displaying Cantonese cuisine culture, as well as nurture more than 15 leading catering enterprises with an annual turnover of over 50 million yuan, more than eight national diamond-class restaurants, 30 famous Cantonese chefs, 10 training bases for Cantonese cuisine chefs, and 20 studios for Cantonese cuisine masters.
Foshan will also build six leading enterprises of edible agricultural products at the municipal level, three new vegetable bases, six new agricultural brands, one agricultural product base to support poverty alleviation areas, as well as formulate a number of standards and norms for famous dishes with Lingnan characteristics.
In order to make full use of Foshan's advantages, promote the popularity of Lingnan flavors and Foshan food and accelerate the integration of the catering industry and its upstream and downstream industries, Foshan will comprehensively implement five key projects: a Cantonese cuisine chef training project, a Cantonese food experience project, a quality Cantonese food ingredients project, a Cantonese cuisine and chefs "go global" project, as well as a culture-tourism-catering integrated development project.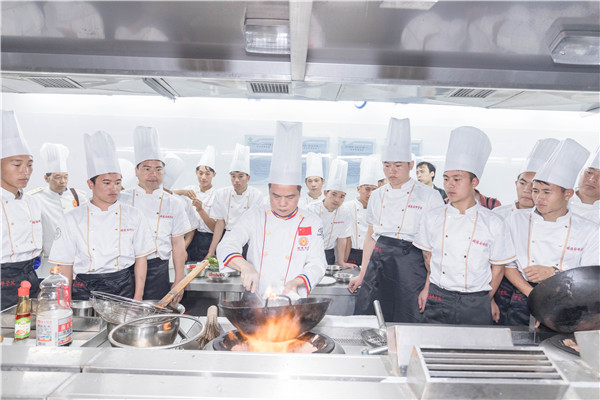 A senior chef teaches his apprentices how to cook a Cantonese dish. [Photo provided to chinadaily.com.cn]