Sports minister optimistic for Team China at 2022 Beijing Olympics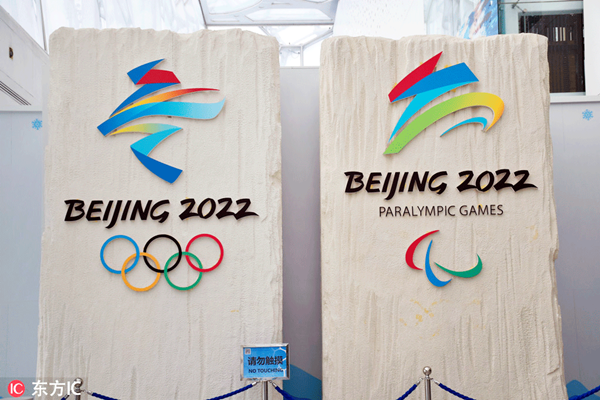 View of the official emblems of the Olympic and Paralympic Winter Games Beijing 2022 on display at the Beijing National Aquatics Center, also known as the Water Cube, in Beijing, China, on Aug 7, 2018. [Photo/IC]
Citing effects from a cross-sports talent development program, China's sports minister is confident that Team China could do the nation proud at the 2022 Winter Olympics in Beijing by qualifying for all events and bringing home a record medal haul.
Gou Zhongwen, head of the General Administration of Sport of China, the country's top sports governing body, said on Friday that necessary measures and cooperation have been put in place to build a competitive national team capable of vying with the world's best in winter sports and making breakthrough results at the home Olympics in 2022.
"To make the 2022 Winter Olympics a great success, it's not just about making smooth organization for the Games but also achieving the best possible athletic results at the event," Gou said during an interview on Friday in the "minister's passage" at the Great Hall of the People.
Gou elaborated that a decent performance at a home Olympics means Chinese athletes have to qualify for all 109 events at the 2022 Games with an aim to win the biggest number of medals in the country's Winter Olympics history.
China achieved its best medal haul at the 2010 Vancouver Winter Olympics with 11 medals, including five gold, since its debut in 1980.
As a late starter in winter sports, China managed to qualify in only 55 events at the 2018 Winter Olympics in Pyeongchang, South Korea, finishing with nine medals, including one gold.
However, an experimental program of drafting and developing winter sports hopefuls from talented summer event athletes made sound progress in 2018, with 4,000 athletes having been identified with transferable winter sports prowess out of 20,000 summer athletes participating in mass tests and tryout camps.
"By implementing this initiative, we have dramatically deepened our talent pool and strengthened our competence in winter sports, as well as having expanded winter sports out from the country's northeastern region to the warmer southern provinces," Gou said.
China also has signed partnerships with 15 traditional winter sports powers, such as Norway, Finland and Sweden, to send national team athletes for long-term overseas training program with their elite counterparts.
A strong team of 80 foreign coaches from Europe and North America have been working with Chinese teams on a scale never seen before, Gou said.