Heavy hitters bring impetus to China-Israel summit
(cityofzhuhai.com)Updated: 2018-07-03
The July 2-3 China-Israel Investment Summit is being attended by more than 5,000 officials, scholars, experts, and business representatives from 2,000 organizations and companies.
This is the largest national dedicated technological innovation investment event between the two countries. This year's conference at the Zhuhai International Conference & Exhibition Center focuses on the theme Cooperating on Innovation and Intelligently Creating a Bright Future for the Guangdong-Hong Kong-Macao Greater Bay Area. This is in concert with Zhuhai's development direction for emerging industries.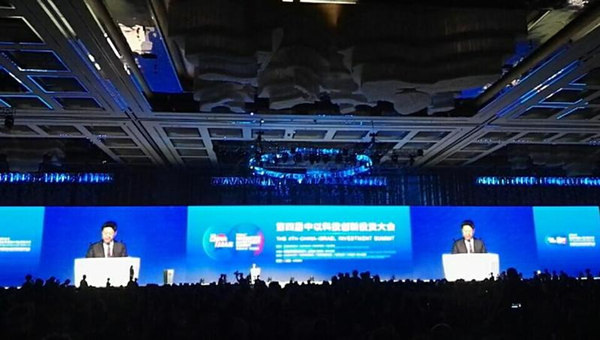 Opening ceremony [Photo by Zhong Fan / Zhuhai Daily]
The main forum, guest dialogues, roadshows, and business-to-business matchmaking cover the range of potential for bilateral industrial cooperation. Involved are industrial manufacturing and automation, the Internet, information technology, agricultural technology, food technology, clean-energy, energy conservation, medical health and life sciences, financial investment, and academic research industries.
Five industry sub-forums highlight Smart Manufacturing 2025, digital economy, biomedicine, intellectual property, and Smart City.
Tzachi Hanegbi, minister of Regional Cooperation of the State of Israel; Huang Yong, director general of the International Center of Cooperation of National Development & Reform Commission (NDRC-ICC); Lin Ji, deputy secretary general of Guangdong Provincial People's Government; Zhuhai Party Chief Guo Yonghang; Nadav Cohen, Consul General of Israel to Guangzhou; and Amir Gal-Or, founder and managing partner of Infinity Group, delivered remarks at the opening ceremony.
Guests such as Xu Xiaonian, a senior economist at the China Europe International Business School, and Dong Mingzhu, president of Zhuhai Gree Electric Appliances, made keynote speeches.
Xiong Yi, vice president of IBM Greater China; Wu Guangquan, chairman of the board of China Aviation Industry General Aircraft (CAIGA); Liu Song, vice president of Alibaba; Shraga Brosh, president of the Manufacturers' Association of Israel; and other prominent officials are leading roundtable discussions, illuminating the opportunities in certain industry trends.
Representatives from Huawei, Accenture, Yanhua Smartech, Beijing Automotive Group, People's Bank of China, and the Export-Import Bank of China are also attending. Professors and experts from prestigious universities such as Tsinghua, Peking, Fudan, Tel Aviv, and the Hebrew University of Jerusalem are offering their advice.
So far, more than a dozen Sino-Israel partnership projects have been signed. In addition, Zhuhai China-Israel Innovation-Driven Enterprises Alliance and the China-Israel Sci-Tech Innovation Intellectual Property Trading Platform have been inaugurated.