Guangzhou marks Dragon Boat Festival with events
(chinadaily.com.cn)Updated: 2018-06-14
To mark the Dragon Boat Festival, a traditional annual event in China that falls on the fifth day of the fifth month in lunar calendar, Guangzhou has put on a series of celebrations across the city since early June.
In Haizhu district, over 100 migrant workers were invited to celebrate the day with the locals at ancestral halls on June 8, where they made zongzi and had traditional dragon boat meals. Haizhu Wetland Park, which held a dragon boat race last year, will continue its tradition this year with a larger-scale race on June 18. The participants include local residents, students from Sun Yat-sen University, Southern Medical University and Guangdong Ocean University, companies based in the city and those hailing from overseas and currently living in Guangzhou.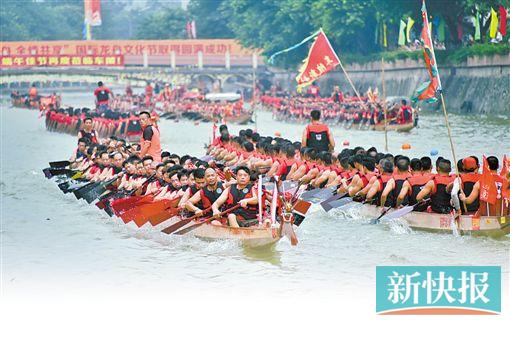 Teams compete against each other at the dragon boat race held in Chebei village. [Photo/xkb.com.cn]
On June 12, an international dragon boat cultural festival kicked off at Chebei village of Tianhe district, a place famous for dragon boat races. During the festival, 12 teams competed against each other. Chebei village has a tradition of dragon boat racing since 1978 and the oldest dragon boat still in use in the village was built more than 150 years ago. Additionally, a range of folk custom shows will also be staged in the village on June 18.
Baiyun district will also mark its celebrations on Liuxi River with a boat race on June 14 featuring 12 dragon boats from Shima, Yagang and Heting villages and a free boat race on June 16.
Other notable dragon boat competitions include one held in Longxishaxi village of Liwan district which has a history of over 50 years and a special farm boat race at Haibang Riverin Panyu district.
Despite being an old tradition, dragon boat racing culture in Guangzhou is seeing a rise in popularity among young people and keeps drawing more and more of them to join the festivities. Achao, a post-90s man, is one such dragon boat culture enthusiast. He opened a dragon boat model studio in Shiji village of Haizhu and has been dedicated to making dragon boat models.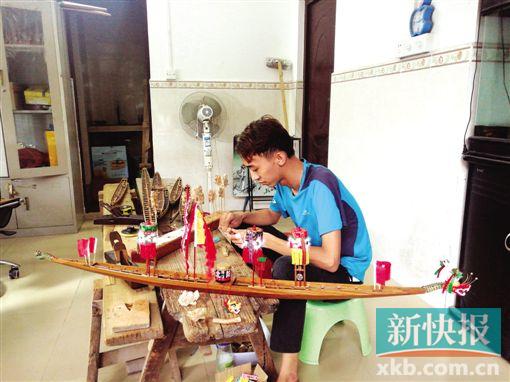 Achao makes a dragon boat model in his studio. [Photo/xkb.com.cn]
"Watching the Dragon boat race is one of my favorite memories of being a kid," he said. According to him, on the day before Dragon Boat Festival, he and his buddies used to gather for a boat race, which has been a long-held tradition in his Shiji village. "I love dragon boats and used to spend days watching artisans building dragon boats, and these are the reasons why I chose making dragon boat models as my career."
The making of a dragon boat model involves many important procedures and the most important part, according to Achao, is the creation of the dragon's head which is the "spirit of a dragon boat".
Chen Mingyuan, head of Haizhu Lianjiao Traditional Culture Association, said the inheritance of dragon boat culture calls for the participation of more young people. In May, his association sent a team to the Philippines for an international dragon boat race and in September, another team will embark for a similar event in South Korea.