China Southern Airlines to strengthen cooperation with Boeing
(chinadaily.com.cn)Updated: 2018-02-05
China Southern Airlines (CSAIR) signed an agreement with leading US aircraft manufacturer Boeing on Feb 2, strengthening cooperation in converting passenger planes into cargo planes.
Held in Guangzhou, the signing ceremony was attended by Ren Xuefeng, Party chief of Guangzhou; Ma Wentian, vice mayor of Guangzhou; Wang Changshun, chairman of CSAIR; and Stanley Deal, vice president of Boeing.
According to the agreement, the two parties will launch a series of partner programs including the transfer of maintenance technologies as well as management training. Specifically, the programs will include undercarriage overhaul for Boeing 777 and 787 planes, the establishment of a production line for converting Boeing 737 NG passenger planes into cargo planes, a support center for Boeing 787 planes, and support programs for Guangzhou Aircraft Maintenance Engineering Co (GAMECO). This is the first time such technology, which is among the most advanced in the aircraft MRO (maintenance, repair, and operation) industry, will be made available to China by Boeing.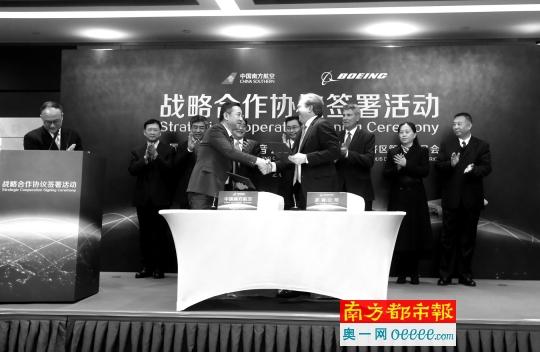 China Southern Airlines signs an agreement with leading US aircraft manufacturer Boeing on Feb 2. [Photo/oeeee.com]
The projects are expected to significantly boost Guangzhou's aircraft and related industries including aircraft repair and manufacturing, particularly the production of seats and other spare parts.
Early in 2015, Guangzhou expressed hopes of turning the city into an international aviation hub, and it is well on the way to achieving this goal, with its airline industry experiencing rapid development in recent years. In 2017, Guangzhou's aircraft maintenance bases hit 3.26 billion yuan ($520 million) in total revenue, a year-on-year increase of 30 percent, making the city one of the largest aeronautical maintenance hubs on the planet.
"These agreements have opened a new chapter in the relationship between Boeing and China Southern Airlines," said Stanley Deal. "We look forward to collaborating with China Southern Airlines and GAMECO to meet demands for Boeing 787 operators, support regional airlines, promote the Boeing Converted Freighter program in conjunction with China Southern Airline's 737NG fleet, and support other key aftermarket programs that will enhance China's aerospace service capabilities."
According to Li Tongbin, vice general manager of CSAIR, converting passenger planes into freighters is the top priority for the industry, with independently manufacturing planes on the radar as well. He also noted that CSAIR was recently approved to build China's only research center for civil aviation maintenance technologies, which will focus on R&D in areas such as big data application within the aircraft industry as well as aircraft health monitoring.