Shenzhen eyes greater cooperation with Philadelphia in life science
(chinadaily.com.cn)Updated: 2018-01-30
Philadelphia, a pilot city for life science in the United States, is attracting investment for its promising healthcare sector from China.
In a recent meeting in Shenzhen, Samuel Chueh, international business investment manager from the Department of Commerce of Philadelphia, introduced the efforts and achievements of the city in healthcare and the rising business opportunities in international cooperation.
"We look forward to a closer cooperation with Shenzhen, and welcome Chinese healthcare companies to tap the business opportunities in Philadelphia," said Chueh.
According to the official figures, there are 198 hospitals and four national cancer research centers in Philadelphia. Its healthcare innovation receives more than $1 billion each year from the National Institute of Health.
The government statistics also indicate that the greater Philadelphia area annually consumes more than $10 billion in research and development in the healthcare field with a total output value of nearly $25 billion.
With more than 100 universities, seven medical schools and 36 academic and research institutions, the city can provide quality talent pool for scientific and technological innovation, said Chueh.
In fact, there are more than 5,000 technology companies and at least 30 business incubators in Philadelphia, which is the top city of choice for science and technology investment with its return on capital higher than other US cities like New York, Boston and Austin, he noted.
He made the remarks at the 2018 Shenzhen - Philadelphia Healthcare Investment and Strategy Conference, which was held in mid-January in Shenzhen.
Tom Wolf, governor of Pennsylvania, where Philadelphia is located, the city Mayor Jim Kenny, and the city's Council President Darrell L.Clarke, sent congratulation letters and compliments to the conference, expressing that there would be a substantial leap forward in China-US healthcare cooperation and the strong desire to invite Chinese government agencies and businesses to come to Philadelphia for business trips and investments.
Luo Wensheng, representative from Shenzhen Council for the Promotion of International Trade, said that Shenzhen, as a pioneer city of influential scientific and technological innovation in the country, attaches great importance to the innovation and development of original technologies, especially in healthcare technology R&D and industrialization. He expressed his hopes that Shenzhen and Philadelphia will have in-depth and extensive strategic cooperation in the healthcare sector.
Li Wei, founder and chairman of Cipher Ground, a US non-profit organization that organizes the event, said that as an international high-tech transformation platform, Cipher Ground is dedicated to creating and serving innovative companies by integrating technology, talent and capital. He also said that the company is building a bridge between China and the United States to transform healthcare technologies and promote investment cooperation.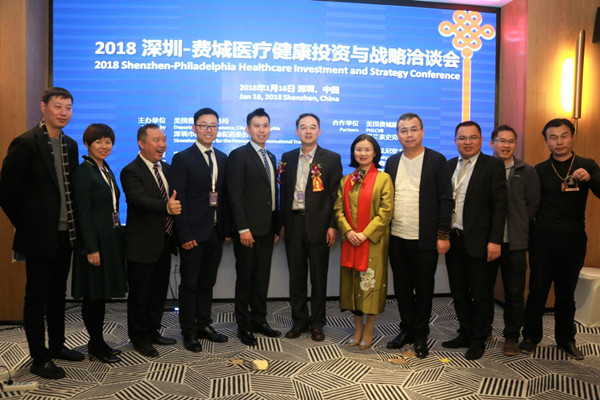 The 2018 Shenzhen - Philadelphia Healthcare Investment and Strategy Conference is held in Shenzhen on Jan 16. [Photo provided to chinadaily.com.cn]