Fishermen Village – an epitome of Shenzhen
(By Chai Hua in Shenzhen)Updated: 2017-12-01
This December marks the fifth anniversary of President Xi Jinping's inspection tour of Guangdong, and to learn about the province's development since that time, a group of more than 40 reporters set off on Nov 28 to retrace his footsteps.
The group's first stop was a place known as Fishermen Village – called so because before 1980 it was just an actual fishing village. Like the metropolis of Shenzhen and its humble origins, the village has taken advantage of reform, opening up and the establishment of the Shenzhen Special Economic Zone.
In its early transformation, the village established several transport businesses and began cooperating with Hong Kong investors to open factories. The village quickly grew and soon became the first in China where average household savings were above 10,000 yuan ($1,512.78).
Its development has become an epitome of what we see as the new Shenzhen.
In 2004, the villagers jointly-built their new home – a modern and garden-like residential community with more than a dozen tall buildings. A property management company was also formed to provide universal service for renting out the apartments.
On Dec 8, 2012, Xi paid a visit to their new home and talked with the villagers to learn more about their lives.
It has been five years since the visit, but villager Deng Weixiong remembers that morning clearly, "President Xi came to my home and asked about our family income," he recalled.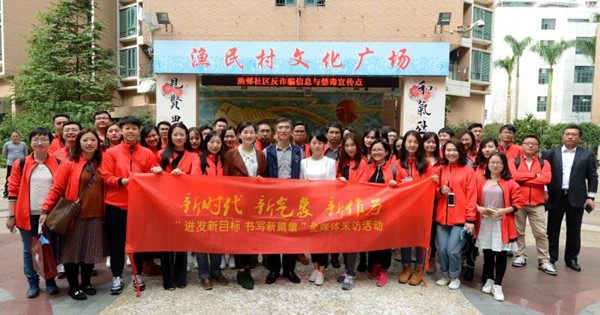 A media group of more than 40 reporters visits Fishermen Village in Shenzhen on Nov 28 on the first stop of their trip to revisit locations of President Xi Jinping's inspection tour of Guangdong five years ago. [Photo provided to chinadaily.com.cn]
In five years, Deng and his wife's income has increased from 30,000 yuan to 50,000 yuan each month, most of which comes from rent from the apartments the villagers built.
As of now, there are only 240 original villagers left while 95 percent of the people living there are tenants. Deng said they all live a friendly life together and the community is very safe.
Yan Hongwei, the police chief of the residential community, said there had been no criminal cases in the past eight years.
The village has also attracted many people from Hong Kong who account for 30 percent of the community's total population, as it is located very close to the border.
More importantly, 62-year-old Deng feels their life has become richer and more colorful.
"Next month will have a birthday party for all the elderly people above 60 years old living here," Deng said, adding he is very much looking forward to it!
grace@chinadailyhk.com