Zhanjiang delegation seeks ties with Europe
Updated: 2017-09-19
A delegation headed by Ou Xianwei, vice mayor of Zhanjiang, visited Norway, France and England from Sept 3 to 12 to pursue closer relationships with Europe.
The delegation first arrived in Norway and held a symposium with the local government, businesses and associations. While promoting the China Marine Economy Expo and Zhanjiang Marine Science and Technology Industry Innovation Center, Ou invited enterprises and research institutions from Oslo to settle in Zhanjiang and deepen cooperation between the two sides.
The director of SINTEF's marine dynamics research, complimented China as the engine of the world industry, extending hopes to cooperate with Zhanjiang and accelerate the transformation of technological achievements.
The Norwegian Shipowners' Association, the biggest federation of ship owners in Norway, expressed its desire to attend the China Marine Economy Expo which will be held in Zhanjiang from Dec 14 to 17 and visit the city for themselves.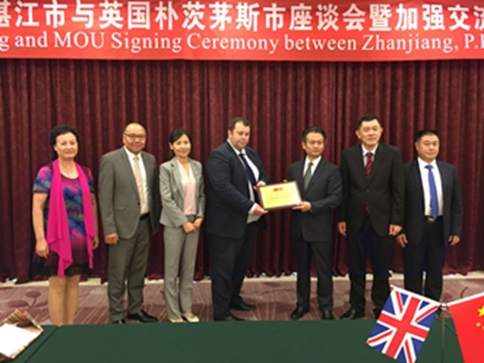 Zhanjiang and Portsmouth, UK, become sister cities on May 11. [Photo/chinesebg.com]
During its visit to France, the delegation was warmly received by local governments. Its first stop was the capital Paris where the delegation toured CGN Europe Energy, Guangdong Economic and Trade Office in France and the Guangdong Guild Hall.
Liu Yugang, vice president of CGN Europe Energy, said he expected to showcase the company's newly-developed offshore wind drifting technology at the 2017 China Marine Economy Expo as well as organize French marine enterprises to attend the event. In his talk with the local officials of Nice, Ou introduced the development in Zhanjiang and sought cooperation with the city in tourism, economy and trade and cultural education. Letters of intent for exchange and cooperation are likely to be signed in the near future between the two coastal cities.
For many years, Brest was the most important port in France to be accessed by the Americas, which gave birth to its booming shipbuilding industry. Local shipbuilding companies showed a keen interest to attend the expo and invest in Zhanjiang.
The European visit came to an end with communications among the delegation, local officials and Zeng Jiancheng, vice president of University of Portsmouth. Under the memorandum of cooperation and exchange, the two sister cities will further cement cooperation in educational exchanges, joint educational programs and scientific research.