Zhanjiang resumes shrimp export to Australia
Updated: 2017-09-13
The first batch of shrimp exported to Australia this year was shipped through Zhanjiang Port after clearing the inspection from Zhanjiang Entry-Exit Inspection and Quarantine Bureau on Sept 8.
Weighing 97.64 tons, it was produced by Guangdong Gourmet Aquatic Co Ltd and packed in six containers, with a total value of $1.9 million.
Australia suspended the import of shrimps since the white spot syndrome virus (WSSV) broke out in early January. The move brought great losses to export enterprises of aquatic products in China, including those in Zhanjiang.
To reverse the situation, Zhanjiang Entry-Exit Inspection and Quarantine Bureau has taken the initiative and rolled out a series of measures.
Information regarding the relevant enterprises was reported to higher level administrations by the bureau, aiming to realize a better commutation with Australia and lift the ban as early as possible.
In the meantime, the quality of the products was expected to improve with strengthened supervision of aquatic plants and the implementation of an accountability mechanism. To facilitate the customs clearance, the bureau streamlined the procedures with the integration of internet to the process the inspection and quarantine.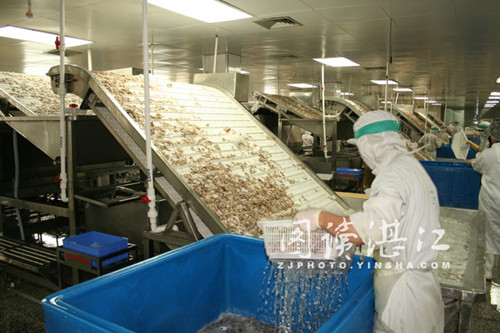 The workshop of an aquatic product enterprise in Zhanjiang [Photo/yinsha.com]