Ecuadorian roses for female passengers on Women's Day
By Li Wenfang in Guangzhou(chinadaily.com.cn)Updated: 2017-03-09
Tens of thousands of Ecuadorian roses were handed out to female passengers departing from Guangzhou Baiyun Airport and used to decorate VIP lounges and counters of China Southern Airlines on March 8, to mark the International Women's Day.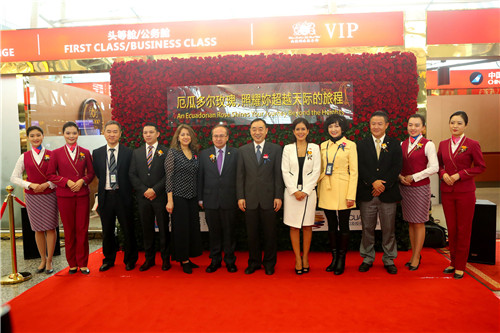 China Southern Airlines, together with the Ecuador Institute for Promotion of Export and Investment, holds an activity featuring Ecuadorian roses at Guangzhou Baiyun Airport on March 8. [Photo by Zeng Jian/chinadaily.com.cn]
The Consulate General of Ecuador in Guangzhou delivered 6,000 bracelets of Ecuadorian roses to female passengers on 50 flights of the Guangzhou-based airline, China's largest domestic carrier.
Ecuador imports more fresh roses into China than any other country, occupying 65 percent of China's imported rose market, said Mariella Molina, consul general of Ecuador in Guangzhou.
Sales imported Ecuadorian flowers, including fresh and preserved roses and gypsophila, increased by 83 percent year-on-year hitting $7.2 million last year.
Molina said she is convinced that China will surpass the United States and Russia in the future to become Ecuador's number one flower export destination, with growing high-end consumption.