Shaoguan
Updated: 2016-11-28
Shaoguan is the northernmost prefecture-level city of Guangdong province. Bordering Hunan province to the northwest and Jiangxi to the northeast, the city is located at the confluence of the Zhenjiang, Wujiang and Beijiang rivers.
Shaoguan covers an area of 18,218 square kilometers, and is divided into three districts, two county-level cities, four counties and one autonomous county, with a total population of 2.87 million, according an official census conducted in 2012.
As a core city of politics, economy, transportation and culture in northern Guangdong, Shaoguan has performed well in economic development, earning a GDP of 116.3 billion yuan ($ 16.9 billion) and a per capita GDP of 40,200 yuan in 2015.
Shaoguan is the birthplace of numerous renowned Chinese scholars and poets, such as the Tang Dynasty poet Zhang Jiuling and Qing Dynasty thinker Liao Yan, bestowing a rich cultural heritage upon the city.
Shaoguan is a national pivotal city of railway and highway transportation, playing a central role in goods transportation between Guangdong, Hunan and Jiangxi provinces. The city is known as the "golden channel" in mainland China.
With a humid subtropical climate, Shaoguan experiences a year-round average temperature of 20.4 C and an average annual precipitation of 1,580 mm.
Boasting rich natural resource, Shaoguan is home to numerous popular tourist attractions, including Danxia Mountain, Yunmen Temple, Maba Relic Site and Donghuping Folk Art Village Scenic Spot.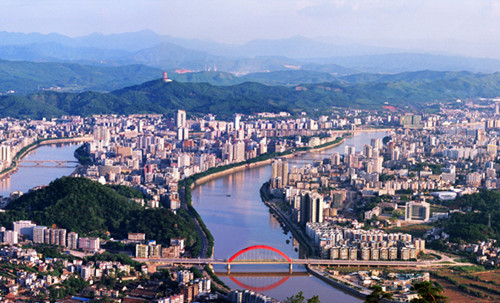 An aerial view of Shaoguan city. [Photo/gz.ifeng.com]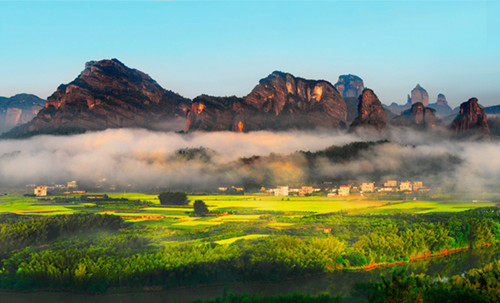 Danxia Mountain in Shaoguan. [Photo/gz.ifeng.com]