Shiwan ceramic sculpture
By Qu Ran(chinaculture.org)Updated: 2016-11-21
Shiwan is a town located in the southwest of the city of Foshan, with a long history of ceramic sculpture passed down through several generations of craftsmen. Its 5000-year-long ceramic making history has accumulated a rich and abundant ceramic culture, and won Shiwan the high prestige of the "Ceramics Capital of Southern China".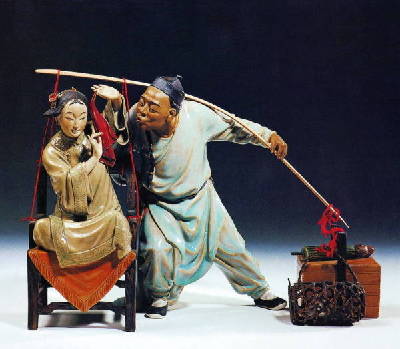 Shiwan ceramic sculpture
Unlike Jingdezhen's porcelain sculptures, which were produced in Guan Yao (official manufacturer), Shiwan ceramics were mainly produced in response to social and economic needs. Ceramic sculptures for daily use as well as for art were both produced in Shiwan. The predecessors of Shiwan ceramic sculptures were first discovered in the cultural relics unearthed in the East Han Tombs of Shiwan. Shiwan ceramic making continuously developed before the Ming Dynasty, reaching its peak during the Ming and Qing dynasties. Having experienced a tough time during the Republican period of China, after the establishment of People's Republic of China, Shiwan ceramics began its flourishingly innovative era.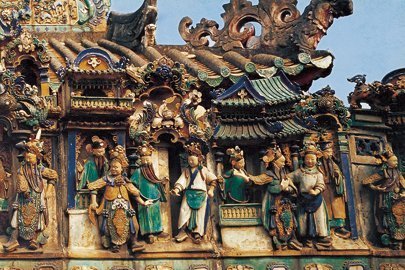 Shiwan ceramic sculpture
Made with unique artistic style, Shiwan ceramic sculptures have the characteristics of being humanistic, regional and national. "Shiwan Doll" ceramic sculptures can be classified into five categories: human, animal, utensil, mini-sculpture and tile ridge sculpture. Vividly designed and properly exaggerated from reality, "Shiwan Doll" ceramic sculptures have formed distinguished regional characteristics.