Foshan National Hi-tech Industrial Development Zone
Updated: 2016-10-26
Foshan High-tech Industrial Development Zone, which was established in 1992 with approval of the State Council, was one of the first of 53 national high-tech industrial development zones.
In the past two decades, the zone has pushed the integrated and innovative development of scientific and financial industries and gathered various innovative resources. Now it has become a major engine for boosting scientific innovation and industrial transformation.
In 2014, the zone generated 342.5 billion yuan ($50.91 billion) of industrial output, 347.4 billion yuan in business income, 70.7 billion yuan in industrial added value, with year-on-year increases of 15.94 percent, 15.13 percent and 19.34 percent, respectively. The tax revenue, export-import volume and investment in fixed assets totaled 15.8 billion yuan, $14.8 billion and 29.9 billion yuan, up 49.1 percent, 9.6 percent and 20.7 percent, respectively.
A high-tech industrial cluster has taken shape in the zone, covering automotive and components, high-end equipment manufacturing, photo-electricity, new materials, smart appliances, bio-medicine and e-commerce.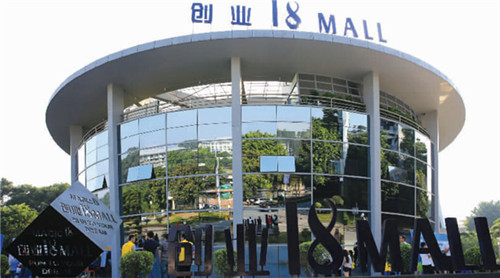 A new incubator for start-ups has recently been put into use in Foshan High-tech Industrial Development Zone. [Photo/Zhujiang Times]
The zone is home to 61 Global Fortune 500 and Fortune-500-funded companies such as Volkswagen Group. It also has 21 listed enterprises and 378 enterprises whose output each exceeds 100 million yuan.
The zone has developed a complete industrial chain for equipment manufacturing, which integrates R&D, engineering design, core components, precision machining, system integration, brand promotion and high-end exhibitions. A number of companies in the zone have developed into industry leaders with outputs over 10 billion yuan.
Foshan High-tech Industrial Development Zone is working on the construction of an industrial belt of advanced equipment manufacturing, which will serve as a key part of national self-innovation zones in Pearl River Delta areas and play a significant role in the Guangdong-Guangxi-Guizhou high-speed railway economic belt.
Meanwhile, the zone has deepened cooperation with universities such as Tsinghua University and research institutions, taken advantage of innovative platforms of Foshan Nanhai Guangdong Technology University - CNC Equipment Cooperative Innovation Institute, Guangdong Institute of Hefei University of Technology and SYSU-CMU Shunde International Joint Research Institute. It has worked with international scientific elites to conduct scientific research and form an innovative system dominated by creative companies. By the end of 2014, Foshan High-tech Industrial Development Zone had attracted 261 high-tech enterprises and 16 scientific incubators.
Source: fs-hitech.gov.cn