Zhongshan, city named after Sun Yat-sen
Updated: 2016-10-25
Located in the south of the Pearl River Delta, Zhongshan is the birthplace of Sun Yat-sen, the great forerunner of Chinese democratic revolution. The city is also a famous ancestral homeland for overseas Chinese.
Previously known as Xiangshan, Zhongshan is renowned for its abundant flowers and fragrance. The ancient Xiangshan is an island hanging lonely over Lingding Bay at the mouth of the Pearl River. Upon the death of Sun Yat-sen in 1925, Xiangshan was renamed Zhongshan county. In 1983, Zhongshan county was withdrawn and Zhongshan city was built.
Most attractions in Zhongshan are related to Sun Yat-sen, such as the Memorial Hall of Former Residence of Sun Yat-sen, Zhongshan Studio City and Memorial Park of Revolution of 1911.
Zhongshan is also famous for its folk songs. A particular custom involves locals taking to the rivers in boats and singing together at harvest time. These "salty songs" have been sung in the area for more than 300 years and have been passed down orally from generation to generation.
The Xiaolan chrysanthemum feast is another custom of note in the region. When chrysanthemums are in full bloom, flower lovers gather to admire the blossoms while drinking wine with friends.
Locals have developed a taste for edible chrysanthemums, believing it a healthy foodstuff, eating differently prepared varieties of the flower daily.
Other intangible cultural heritages in the city include drunken dance, yakou floats, crane dance and Huangpu kylin dance.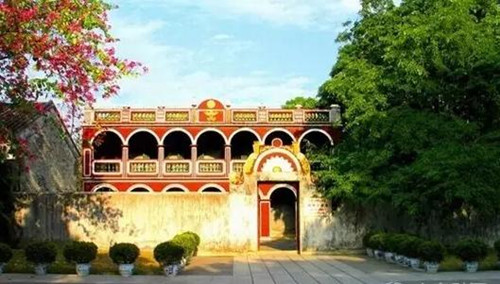 The former Residence of Sun Yat-sen in Cuiheng village, Zhongshan. [Photo/Nanfang Daily]
Attractions: Former Residence of Sun Yat-sen, Zhongshan Grand Mansion Gate, Lingnan Water Village