Foshan, ancient hometown of martial arts
(chinadaily.com.cn)Updated: 2016-10-19
From humble begins more than 1,000 years ago Foshan has grown to become the third largest city in Guangdong province. Known as the hometown of martial arts, the city regularly ranks among the four most ancient in all China.
Rising in popularity at the beginning of the Ming Dynasty (AD 1368-1644), martial arts grew alongside Foshan, with many of its most famous sons being masters of the art form, such as Wong Fei-Hung, Yip Man and Bruce Lee. As a result, the city has a global influence in the world of martial arts, home to many international organizations.
Foshan is also China's most important place for traditional art of dragon and lion dancing. It has been successfully hosting the annual Guangdong, Hong Kong, Macao and Taiwan Lion Dance Championship since 2002, attracting thousands of fans each year.
Foshan is also an important place promoting Lingnan and Guangfu culture, which are among the most important clan cultures of Guangdong province. The city is also known for Cantonese Opera, ceramics and its iron foundry.
Unique customs such as the Qiuse Street procession and Crossing the Tongjie Bridge are still carried out in Foshan today to celebrate bumper harvests or pray for blessings.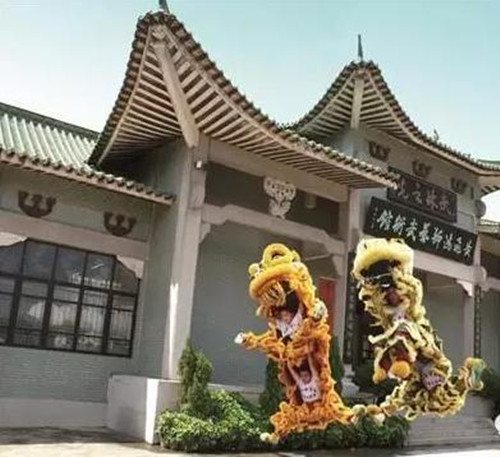 Wong Fei-hung Memorial Hall is located in the northern part of the Ancestral Temple in downtown Foshan, Guangdong province. [Photo/Nanfang Daily]
Attractions: Foshan Ancestral Temple, Naihai Xiqiao Mountain, Shunde Qinghui Garden, Wong Fei-hung Memorial Hall