China's first world champion came from Guangdong
(chinadaily.com.cn)Updated: 2016-09-29
Rong Guotuan, a world-renowned table tennis player who trained in Guangdong, took home the world title for men's singles at the 25th World Table Tennis Championships on April 5, 1959.
Rong's victory marked the first appearance of a Chinese name inked on the St.Bride Vase, the top prize in international table tennis.
With Guangdong's Zhuhai city as his ancestral home and born in Hong Kong in 1937, Rong had a keen interest in table tennis since his childhood. From 1956 to 1957, he defeated the then table tennis world champion Ichiro Ogimura and won three champions in Hong Kong.
Rong started training at the Guangzhou Sport University in 1957 and was selected onto the Chinese national table tennis team in 1958. He soon became well-known for his rub attacks and flexible playing style.
The contribution that Rong made to the development of table tennis in China is indelible. In addition to winning China's first championship, Rong also helped China win the men's team match at the 26th World Table Tennis Championships in 1961 and coached China's gold-winning women's national team in 1965.
Rong died in 1968 and in 1987, a bronze statue was built in his honor in Zhuhai.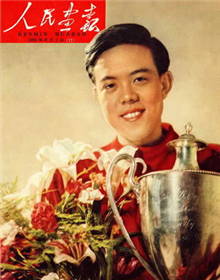 Rong Guotuan