Wages for university graduates in Shenzhen were the highest among cities in Guangdong province last year, according to a government report, but the city's soaring housing rents are crimping their earnings by more than 30 percent.
The average salary of fresh graduates last year stood at 3,502 yuan ($532) a month in Shenzhen - about 12 percent higher than the provincial average of 3,130 yuan - a report by the Department of Education of Guangdong Province published on Tuesday shows.
Graduates took home an average monthly pay of 3,233 yuan in the provincial capital Guangzhou in 2015.
Despite having the edge pay-wise, new employees in Shenzhen are feeling the crunch in living costs. According to data from Shenzhen Centaline Property, average apartment rents in the city rose 12 percent year-on-year last year to 71 yuan per square meter a month.
Residential rentals have gone up further to 75 yuan a square meter this month, which means that a graduate earning an average wage would need to take out 32 percent of his or her salary to rent a 15-square-meter room.
Despite the rising financial burden, graduates seem to be unperturbed and have continued to flock to the city in search of jobs.
"The opportunities available in a city are more important than the costs of living," reckoned Gao Yang, a 22-year-old student who's due to graduate from Shandong Business and Technology University in July.
Gao said she's determined to seek a job in Shenzhen come what may. "Shenzhen is a city where I can improve and upgrade myself quickly. The high housing rents may be an issue, but it's no deterrent for me."
Liu Jie, a senior researcher in urban development strategy and industrial economics at Shenzhen-based think tank China Development Institute, believes that Shenzhen's skyrocketing property market will have an impact on the city's drive to attract talents, but it's not a decisive factor.
"Inclusiveness and innovation are the city's most attracting points," Liu noted.
According to the report, while Guangzhou remains the primary workplace for the biggest number of fresh graduates in the province, with 157,199 getting their first job in the provincial capital, the percentage was falling, having gone down 0.31 percentage points from 35.76 percent of the total employed in 2014 to 35.45 percent last year.
At the same time, Shenzhen's share in employing graduates was growing. Last year, 68,935 graduates from the province secured jobs in Shenzhen, accounting for 15.55 percent of the total - up 1.22 percentage points from 14.33 percent in 2014.
A separate report by Peking University and online service provider Ganji.com shows that the average pay of graduates in Shenzhen was 2,905 yuan per month in 2014 - ranking third on the mainland behind Shanghai and Beijing with 3,241 yuan and 3,109 yuan, respectively.
sally@chinadailyhk.com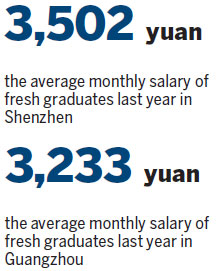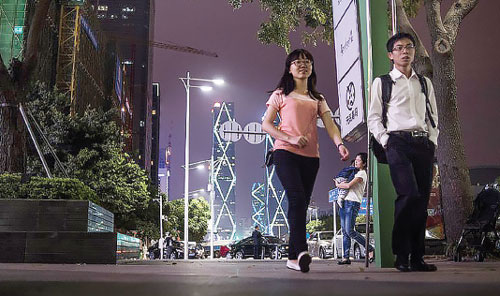 Inclusiveness and innovation are Shenzhen's trump cards in luring talents, experts say. The city's high housing rents may be an issue, but may not be a deterrent for most fresh graduates who flock to the southern Guangdong city to start their careers. Roy Liu / China Daily
(HK Edition 01/22/2016 page11)