About
The 2015 "Summer Fun in Harbin", the largest summer tourism and culture event in the city of Harbin, capital of Heilongjiang province, opens on June 13, at the city's Sun Island scenic area, and runs through October. In addition to the annual sessions -- the wetland festival, the beer festival, Wuhua Mountain autumn tour, and sports and cultural activities across the city -- this year's festival includes the city's first China-Russia Culture and Arts Exchange Week, and even more live summer shows.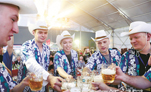 Harbin city, Heilongjiang province is ready for the China Harbin International Beer Festival, opening the evening of June 25 and lasting until July 6, at its Ice and Snow World, giving locals a taste of beers from all over.
Schedule
• June 13

Opening ceremony of 2015 Charming Harbin Summer & 5th Wetland Festival

• June - September

Night tour and activities of Songhua River

• June - October

Binjiang Wetland tourist activities

• June 13

Youth bicycle wetland touring event

• June 20

Boat racing at Dragon Boat Festival
Read More
The annual summer fun festival is Harbin's main tourism event with the focus this year on wetland ecology. With that in mind, we have here some recommendations on where to go and what to do during the festival.