Overseas Chinese Expo aims to boost development in East Guangdong
By Zhang Yu'an(chinadaily.com.cn)Updated: 2015-10-28
The 6th East Guangdong Overseas Chinese Expo kicked off on Oct 27 in Chaozhou city, Guangdong province. More than 800 guests from 27 countries as well as 25 domestic cities participated in the opening ceremony.
The two-day expo aims to attract more foreign investment and further strengthen the cooperation with overseas Chinese in the East Guangdong region.
With the theme of "innovation-driven strategy to promote the growth of east Guangdong", this year's expo attaches great importance to China's Belt and Road and 21st-century Maritime Silk Road initiatives.
"The expo is a major measure of the provincial government to implement the country's Belt and Road Initiative, carry out innovation-driven strategies and accelerate the pace of development in East Guangdong region." said Zhao Yufang, vice-governor of Guangdong province, at the opening ceremony.
She also encouraged the overseas Chinese migrated from east Guangdong to further enhance their cooperation and exchanges with their hometowns.
Li Shuihua, Party secretary of Chaozhou, said that as an important pivot city of the 21st-century Maritime Silk Road, Chaozhou is embracing a golden development era. The city will grasp the opportunities brought by the China's Belt and Road Initiative.
The Guangdong provincial government's determination of promoting the development in East Guangdong region will also benefit Chaozhou, which will open wider and be more innovative in future development.
Li expressed his sincere hope that Chaozhou people from home and abroad continue to support the development of their hometown and launch more win-win cooperation.
The East Guangdong region is consisted of four cities, namely, Chaozhou, which is a well-known hometown for most overseas Chinese, Shantou, Shanwei and Jieyang. They are all coastal ones and enjoyed fame along the ancient maritime silk road.
Currently, the four cities are known as the hometowns of many overseas Chinese. Take Chaozhou as an example, the city now has about 2.7 million people, but the number of overseas Chinese who migrated from Chaoshou to other parts of the world, especially the Southeast Asia, almost equals to the city's population, according to a local official.
Many overseas Chinese have the tradition of investing back to their hometowns after they have succeeded in doing business abroad. Many of them still speak their hometown dialects and value their traditional culture deeply.
For the expo, the four cities offered to potential investors a total of 94 projects with a combined investment of nearly 60 billion yuan ($9.44 billion). On the first day of the expo, 20 contracts were signed between local enterprises and overseas Chinese businesses, totally valuing more than 27.5 billion yuan.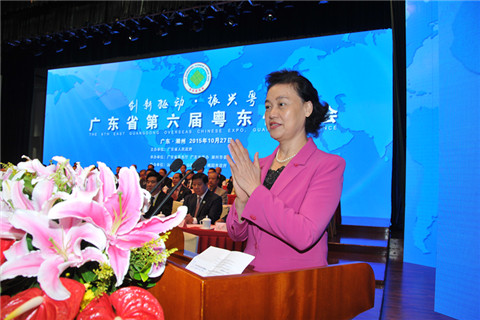 Zhao Yufang, vice-governor of Guangdong province hosts the opening ceremony of the 6th East Guangdong Overseas Chinese Expo in Chaozhou, Guangdong Province on Oct 27. [Photos provided to China Daily]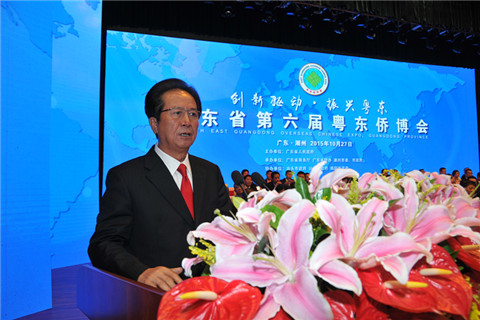 Kingwai Chan, vice-chairman of the All-China Federation of Industry and Commerce delivers a speech at the opening ceremony. [Photos provided to China Daily]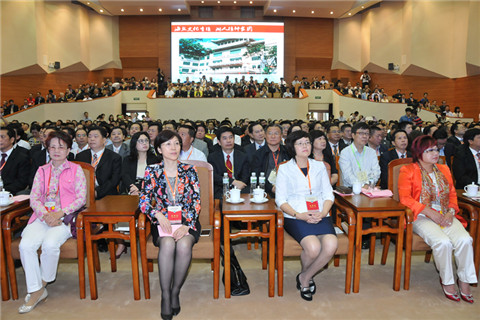 Participants at the expo on Oct 27. [Photos provided to China Daily]