'Buddha needs you'
(chinadaily.com.cn)Updated: 2015-04-04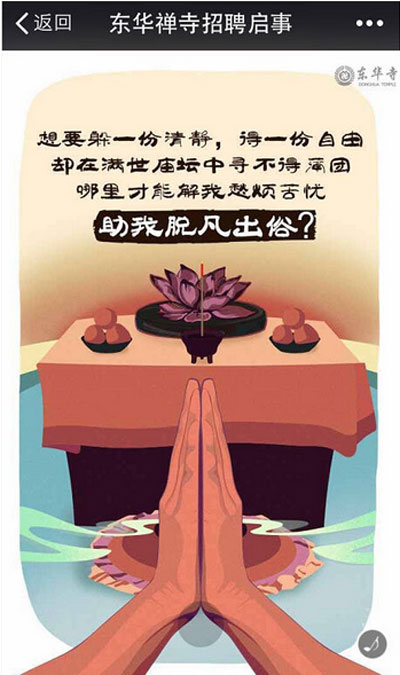 Photo from Internet.
A recruitment advertisement by a temple in South China's Guangdong province has gone viral on China's largest messaging app WeChat, so that in five days, it received 4,000 applications from all over the world for the eight positions advertised.
"We never expected to attract so many applicants, now we are scrambling to deal with our mail," said a spokesperson at the thousand-year-old Huadong Temple. The positions available include UI designer, copywriter, IT support and new media operator, all of which are flexible positions.
Wang Yingyao, a former copywriter for Chanel and Lancome, is one of the applicants. Wang says that he decided to apply the day he saw the advertisement, because he was quite amazed that an ad for a Buddhist temple would be so "unconventional and catchy".
The advertisement comprises of several cartoons of the positions, supplemented by homophonic catchphrases and background music, which resonated with younger people.
Master Huike, who is in charge of the culture department at the temple, said that the advertisement was designed and produced by several enthusiastic post-80s and 90s youngsters.
He said that he originally planned to post the advertisement on the temple's website and some job-hunting websites, but was told that it wouldn't work. "I had no idea of what they were talking about, and barely know what is an APP or a UI," said Master Huike. "So I just told them to do it their own way, so long as it doesn't break any laws."
The advertisement read: "International talents are needed, the applicant has to be good at writing, communication, and have work experience in new media; acknowledges the Shaolin culture and is devoted to the promotion of traditional Chinese culture."
The advertisement was ridiculed by many, who questioned its motives. "It seems that Shaolin might go public very soon," wrote microblog user JiaLiangwen. But going digital does seem necessary in an era when the Internet has become so universal. The Dragon Spring Temple in northwestern Beijing, for example, has been quite successfully teaching and preaching Buddhism for years.
The Temple has its own website, blog and microblog, updating with cartoons and articles on Buddhism, trying to cater to audiences from all walks of life. It also has an e-library that offers books on Buddhism, enabling disciples to study on their own.
"The paper books circulate very slowly, and most younger Chinese prefer to read in their spare moments, that's why Buddhism is turning to these new gadgets," said one of the producers of the advertisement for the Huandong Temple. Despite the worries netizens voiced at the novel advertisement, Master Huike said, "The core pursuit has not changed a bit, so long as we to stick to our goal of spreading the kindness and benevolence of Buddhism."
Back in last September, Shaolin Temple in North China's Henan province posted an online advertisement to recruit a new media director and operators to promote the Shaolin culture to the world.
Related:
Easy Talk: Shaolin Temple's job ad